Moving up into the world league
If there were a world league for makers of multiple moulds, the ERMO Group would be up among the leaders. The mouldmaker has achieved this position among other things thanks to its high-precision injection moulds, delivery ­quality and service.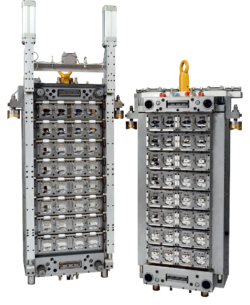 Multiple moulds for two-component injection moulding are what make ERMO unique.
When Jean-Yves Pichereau, CEO of the ERMO GROUP, Marcillé-La-Ville (France), welcomes visitors, you can sense something of the company philosophy in his handshake. "I shake the hands of all my employees every day and wish them a good morning. Treating everyone like members of the family is important for me. I know each of them personally and want to show them that I appreciate their efforts." Pichereau has high standards, has come a long way with his business and is passionate about his trade. His company philosophy is one key to his success, his concentration on multiple moulds that he produces for the plastics industry being the other. Pichereau opens his laptop and presents pictures of injection moulds past and present. "Initially, we mainly worked for manufacturers of cars and televisions sets. We then changed our tack and have made a name for ourselves as world-class makers of multiple moulds."
"The precision was within 5 micrometres – something that not many compe­titors are capable of achieving."
Superlative wire-cutting precision
A development due mainly to the precision of ERMO injection moulds and their surface quality. Pichereau taps one of the pictures with his finger. "Last year we largely wire-cut a mould consisting of 16 components. It took 3,000 working hours. The precision was within 5 micrometres – something that not many competitors are capable of achieving." He selects another picture. "These moulds for two-component injection moulding make us unique. The process creates injection mouldings that have two colours or combine two materials in a single cycle. We are the first French company to design and make such moulds."
Pichereau knows that his customers attach importance to a fast response, high delivery quality and rapid and competent service. This is why he needs wire EDM machines that display impressive performance, constant availability and high efficiency. You've got to set out with the goal, he says, to be the best in every department and offer your ­customers innovation that enables them to boost their productivity. ERMO has already produced moulds that no one previously thought were possible. So that the company stays on track for ­success, he adds, it operates around the clock, at night and, as far as possible, with unmanned machines or machines monitored by a smaller team.
With wire erosion, ERMO machines injection moulds that in some cases weigh over 10 tonnes, consist of a maximum of 96 components and are worth as much as EUR 1 million. As the material, the ­company mainly uses hardened and stainless steel. Pichereau shows us a complex wire-cut co­m­ponent and discloses its secret: "To produce this part, which is a moulding element and ejector in one, we were the first French company to invest in an MV Series wire-cutting system from ­Mitsubishi Electric. The machine went into ­operation in October 2012."
On the trip to TECHMO 61 in Alençon – a production location of the ERMO GROUP that uses the MV 2400 R Grand Tubular – Pichereau expresses his wish for a stronger presence of French com­panies on the international stage. At the Chinaplas trade fair in Guangzhou, the French industry only participated with a small stand, while the Germans booked an entire hall. France would do better, he feels, if more companies took the same approach as the ERMO Group with its global export share of over 70 per cent.
Drop in wire consumption
Claude Lambert, Workshop Manager, leans against the MV 2400 R Grand Tubular. "We used to farm out the EDM work that we now do on the new machine to jobshops. Thanks to the performance of this machine, we've now got the extra capacity to wire-cut components for other companies." At an external PC, his name-sake Didier Lambert, operator of the MV 2400 R Grand Tubular, processes a file received from the production planning system. He then sends the DXF data to the EDM machine's digital ADVANCE PLUS CNC control fully designed by Mitsubishi Electric. "Because of the smooth wire feed and Tubular Shaft Motors that very sensitively control the machine's movements, we achieve the demanded precision even on high conical cuts." Also contributory to this is the ­Optical Drive System that communicates considerably faster and more efficiently by optical waveguide. Loïc Drouet, Plant/Location Manager at TECHMO 61, stresses that, in terms of parallelism, they achieve precision of less than 5 micrometres, even over a height of 150 millimetres.
In addition to this, Didier Lambert has found that the wire consumption of the MV 2400 R Grand ­Tubular is 37 per cent lower than on other machines. A value that can be improved on, he believes, and perhaps up to as high as the 46 per cent reported by Mitsubishi Electric. Then there are savings with the ion exchange media. Claude Lambert pats his namesake approvingly on the shoulder, encoura­ging him to carry on optimising the process. "The machine is only ever as good as its operator."
Drouet includes automatic wire threading among the important factors when choosing an EDM ­machine. Thanks to the reliability of the Intelligent AT wire threader, we're capable of producing extra components in a given time and thus boosting our productivity. Furthermore, wire-threading is performed in the kerf and even there without the operator's help. This, he believes, is a decisive advantage in view of the length of processing, which can take anything from a few hours to a matter of days. We often make full use of the size of the machine table and clamp several components in parallel.
The smaller ones, he continues, are eroded during the day and the larger ones at night. Moreover, the new Mitsubishi is convenient to operate, even for someone who has never previously worked at such a system. Even a trainee took little time to master it, he adds.
"With wire erosion, ERMO machines injection moulds that in some cases weigh over 10 tonnes, consist of a maximum of 96 components and are worth as much as EUR 1 million."
A high flyer privately as well
Pichereau, leisure pilot with a plane and heli­copter licence, will soon be taking part in an air rally across Southern Europe for a whole week. Whether he'll find time to think about developments in mouldmaking, he doesn't know.
However, his position in this respect is very clear. "If the mouldmaking department is to still exist in five years' time, innovation coupled with quality and reliability will be required. This is where wire erosion is of special importance because wire-cutting systems permit continuous production – around the clock if need be. Unmanned of course. From an economic point of view, there's no alternative to such an automated system when one considers the high cost of labour in France. If a collision occurs on a milling machine, it comes to an abrupt stop with the risk of damage to its costly tools. Unlike on a wire EDM machine that automatically rethreads the broken wire and carries on working."