Giants in precision for micro-components
Tool & Stamping has established itself on the market with highly complex stamping tools. Two Mitsubishi Electric wire EDM machines provide the required precision.
Tool & Stamping GmbH & Co. KG was founded by Alfons Manzo in 2004 when his then employer, Molex GmbH gave up its location in Bad Wimpfen.
The young businessman took over Molex orders in the tool and stamping sector and built up its own stock of customers at the same time. The latter now account for 95 per cent of business. This success can be ascribed to the high quality standard that has top priority for the entire product range of Tool & Stamping. The small team of specialists meets this high standard, among other things, with high-precision wire EDM machines from Mitsubishi Electric.
With just four employees, Tool & Stamping ranks among the smaller and highly specialised firms in toolmaking. Working from sample parts, the company designs elaborate stamping tools employed in the working of copper, brass, aluminium, steel and stainless steel. Examples of the end-products include copper contacts for the electronics and automotive industries. Stamping is also one of the services provided. Founder and manager Alfons Manzo attaches great value to high manufacturing depth: "Most customers today expect an all-inclusive service – something we're perfectly equipped to provide." 'Perfectly' in this case means that the firm has to operate highly efficiently in order to design and machine the tools. "The times when making a tool took three months are well and truly over. These days it's more like three to six weeks," says Manzo, a toolmaker by trade.
Tool & Stamping's customers appreciate this philosophy and trust in the toolmakers' skills, for the company has made a lasting impression with its sophisticated tool solutions. The stamping tools benefit enormously from the employees' wealth of experience and their technical expertise. "Depending on the job, this can run up to several hundred man hours per tool," says Manzo describing the production process. However, the results are certainly remarkable and customers are delighted. Combining precision with quality, the stamping tools are an expression of what is technically feasible today.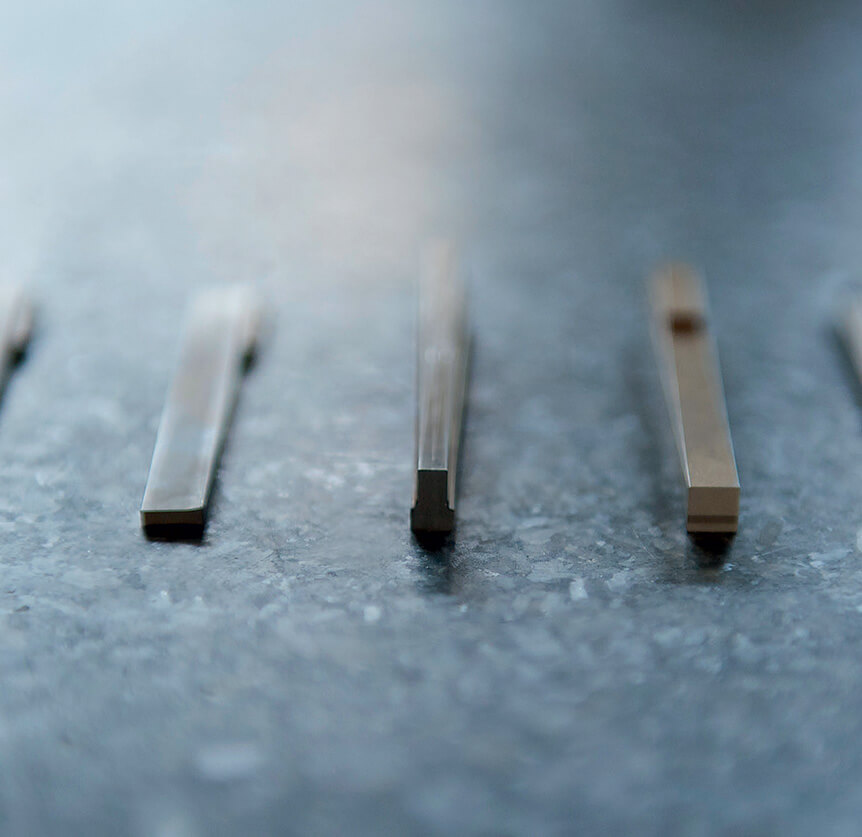 FA20-S boosts capacity
Tool & Stamping have been achieving high precision with the aid of a Mitsubishi Electric QA 10 since 2006. "It enables us to achieve precision to the nearest thousandth of a millimetre," Manzo enthuses. The machine is also capable of high productivity. Such values find expression not only in the quality of the stamping tools, but also in delivery times. Despite their high-performance QA 10, Tool & Stamping reached its limits in 2010 and became aware of the need to boost both capacity and flexibility in production.
Having awarded a number of jobs to outside firms, it soon dawned on Manzo that it would make more sense to buy a second wire EDM machine. "It's important for us to be able to respond quickly rather than having the join the queue for outside services." Tool & Stamping therefore invested in a Mitsubishi Electric model in 2010, this time in an FA20-S Advance. In doing so, Manzo killed two birds with one stone, because greater flexibility was only one reason. "Customer orders showed that we also need a greater machining range if we wanted to make all the tools ourselves," the manager adds. While the QA 10 has to make do with 350 mm, the FA20-S Advance has a range of 500 mm on the X-axis.
With the FA20-S Advance, Tool & Stamping has sensibly extended its machine park and clearly underlined that wire erosion is a key technology for the still young business. "We depend on these machines so that we can fully exploit our strengths in high-precision toolmaking," Manzo stresses. The high level of quality is, after all, an important selling point that sets them apart from the competition. As the FA20-S Advance now achieves this quality at a relatively high speed, Tool & Stamping benefits additionally from higher productivity.
"The easy-to-grasp instruction by the manufacturer and the rapid response from after-sales service speak for themselves"
In line with the state of technology
There were good reasons for choosing Mitsubishi Electric as the second wire EDM machine.
Firstly, the team was already familiar with the manufacturer's control system, and secondly previous experience had shown the service to be competent and reliable, as Manzo recalls: "The easy-to-grasp instruction by the manufacturer and the rapid response from after-sales service speak for themselves."
Alfons Manzo hopes for a continuation of the positive experience with Mitsubishi Electric, as he is already looking further ahead. "Our order situation is so promising that we'd like to expand further in the foreseeable future." Along with moving into larger premises and recruiting more staff, the machine park would also be included in expansion. "It goes without saying that it is our aim to always keep our equipment in line with the state of technology," says the manager with respect to possible new wire EDM machines.
The emphasis in wire EDM is on precision
Companies in Profile
Name and place of business:
Tool & Stamping GmbH & Co. KG,
Bad Wimpfen, Germany
Founding year:
2004
Number of employees:
4
Managing partner:
Alfons Manzo
Core business:
Toolmaking and stamping
Contact
Tool & Stamping GmbH & Co. KG
Brühlstrasse 7
74206 Bad Wimpfen
Germany
Tel +49 . 7063 . 932782
Fax +49 . 7063 . 934712
info @ toolstamping.com