New departure. Cutting faster, more reliably and more cost-effectively with the MV2400R.
DTM in Badalona produces high-grade steel moulds for the die-casting and injection-moulding of intricate components for the automotive industry. To meet current demands for shorter delivery times, greater accuracy and quality at competitive prices, the mouldmaker has turned to innovative technologies. With its MV2400R wire-cutting EDM from Mitsubishi Electric, it is well set for the future in the wire-cutting sector.

Mouldmaker DTM evolved out of Permesa S.A. in 1993. The latter company had been in existence since the Sixties, but because of the economic crisis at the beginning of the Nineties which threatened Permesa's survival, the employees founded a cooperative. This way they got off to a successful new start and continued mouldmaking in Badalona. Today the firm employs 18 engineers and technicians, with eight worker-owners holding shares in the business. The firm concentrates on high-grade moulds for aluminium and magnesium die casting and injection moulds for thermoplastics.
Shorter delivery times, higher precision and quality.
Positioned on the market with quality and expertise
Because of the high quality of their steel moulds and their flexibility for short-notice orders, DTM has become established as a supplier to the automotive industry. In Badalona, the specialists produce one-off die casting and injection moulds above all for vehicle components. This means they are suppliers to globally active manufacturers of components for the automotive industry. The die casting moulds are mainly used for the production of aluminium prototypes and functional models. But they are also used for components for series production, such as housings and carriers for vehicle electronics and for door and window closure systems. With injection moulds from DTM, automotive component suppliers produce thermoplastic components with high-quality surface finishes, e.g. door handles and covers for rear-view mirrors. In addition, the technicians at DTM also produce injection moulds for medical and pharmaceutical technology as well as for the electrical industry. These include steel moulds with which, for example, containers for inhalers can be produced in large series. DTM also produces and builds injection moulds for high-grade frames and covers for electrical switches for building installations. DTM has created a competitive position for itself above all with its specialised expertise for the construction of complex moulds for challenging components. Jordi Hernández, one of DTM's managers, reports: "With outstanding quality, and with pledges of the safe function and durability of the moulds we produce, with the proximity to our customers and the associated flexibility, we have secured our market position in the face of competition from Eastern Europe and also from Asia. So far we have been very successful with this approach."
The components for the die casting and injection moulds are designed at DTM on 3D CAD systems. By using CAM systems, the programmers then generate the NC programs for milling, turning, die-sinking and wire-cut erosion. Via a DNC network, the data are then transmitted to the machines. Hernández explains: "To stay competitive, we have to achieve high productivity above all. This refers to the entire process from design through to the finished component. In our cooperative, in which the employers are also owners of the business, our advantage is that everyone in the firm naturally has a strong interest in high productivity and participates with a strong sense of personal responsibility. This is why we always endeavour to invest in forward-looking technologies and machines that boost productivity."
A whole spectrum of technologies.
Productive and cost-effective wire EDM
With this motivation, DTM purchased an MV2400R wire EDM machine from Mitsubishi Electric in February 2015. Compared to the competition wire-cutting machines previously used in the company and which had proven highly reliable over the years, it was more expensive and had a larger working range. As Hernández admits, the investment was initially also associated with high risk: "We based our choice on references and recommendations. But it was still risky, as the MV2400R from Mitsubishi Electric comes with a whole spectrum of technologies that were new and unfamiliar to us." However, the experience gathered by DTM to date shows that the MV2400R with its futuristic equipment has stood the test of time. The changeover from the previous wire-cutting machines thus took place smoothly and without difficulty, despite the initial reservations. What made a big difference here was the comfortable and readily graspable user interface of the current Advance Plus control from Mitsubishi Electric. Hernández adds: "It was essential that we could maintain and continue ongoing production with the new wire EDM machine. And this is something we achieved perfectly with the MV2400R." The machine also satisfied all expectations regarding quality. The machined mould inserts always fit with precision. The MV2400R ensures accuracy to less than a hundredth of a millimetre thanks to its innovative Tubular Shaft Motors in the feed axes. For injection moulds in particular that produce components with high-grade surface finishes, a high surface quality of the mould inserts is absolutely essential. In this area as well, the MV2400R with its innovative generator technology fills the bill perfectly. With a much higher clock rate than existing systems, the new generator builds up voltage quicker and with more precision. This means more uniform and controlled material erosion. As a result, smooth, high-grade surfaces are produced by the finishing cut. Another advantage of the new generator technology is that the parameters can be varied over a broad range. Quick cuts and thus short machining times during roughing are just as possible as superlative surface quality at low cutting speeds during fine finishing. Machining time on the MV2400R is up to 30 per cent shorter than on other wire-cutting machines. "These time savings are fully in line with our strategy. At a cost-intensive production location, we want to produce high quality at competitive prices. We are convinced that we can now achieve this balancing act with the mature functions of the MV2400R. The machine works on the one hand exceptionally fast, while realising maximum precision and surface quality on the other," Hernández explains.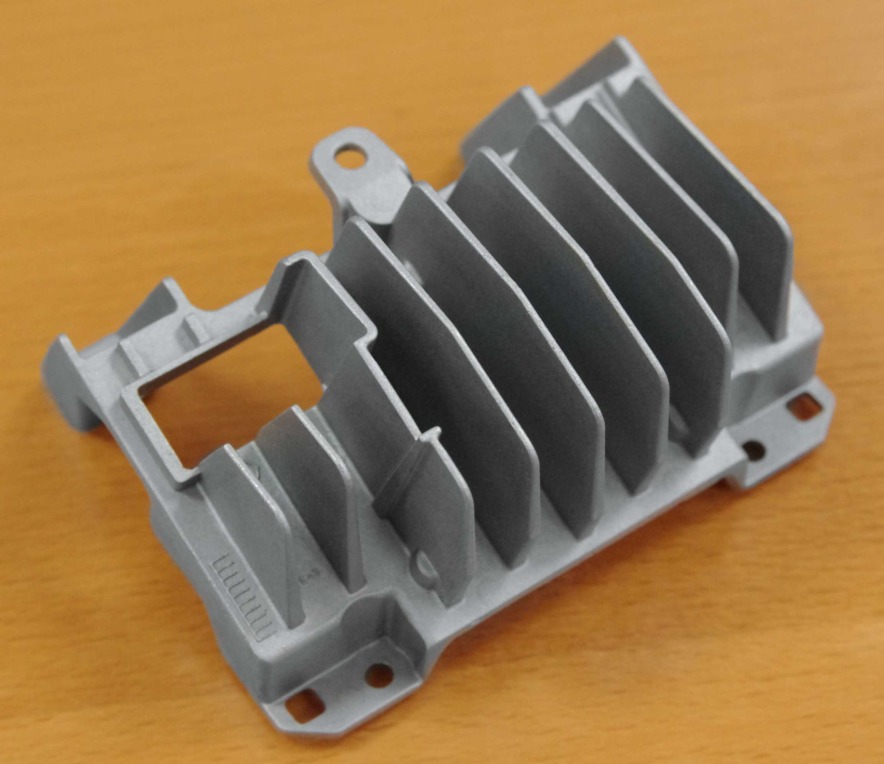 For challenging and intricate components made of aluminium and magnesium for the automotive industry, DTM in Badalona produces high-grade die casting moulds with the demanded precision and superlative surface quality.
High surface quality essential on mould inserts.
Comprehensive equipment for unmanned production
Working cost-effectively also means for Hernández carrying out production on as many machines as possible with minimal manpower. The functions and equipment of the recently purchased wire ­erosion machine from Mitsubishi Electric go a long way towards satisfying these requirements. "The extra-dependable automatic wire threader ­impressed us very quickly," Hernández notes. The experts at DTM currently work in a single shift. A single operator is responsible for two to three machines. For wire EDM, he only has to equip the machine and call up the NC programs. The rest is performed by the MV2400R totally autonomously. So that this is also possible with elaborate, large workpieces or when cutting many smaller components out of a larger plate, the mouldmakers in Badalona have equipped their MV2400R with an optional larger wire spool for 20 kg of wire.
The optional system with four filters also keeps the tank of water extra-clean so that it doesn't have to be replaced so often. This means that the wire-cutting machine can operate for long periods completely without supervision. This applies not only to the day shift when staff are present, but also to unsupervised night and weekend shifts. DTM mouldmakers thus operates cost-effectively and has boosted its flexibility. Changing orders can be worked off at high rates of throughput.
Further growth assured by forward-looking optional extras.
By investing in the wire-cutting machine, the employees and worker-owners of DTM have taken a forward-looking step. Hernández explains: "We want to expand our capacity. So that we can operate cost-effectively, we have to do so with the existing machine park and staff. This is why we had the wire-cutting machine from Mitsubishi Electric equipped from the outset with a number of items of special equipment." This includes the mcAnywhere Contact remote access which relays messages for fault diagnosis of the control system and machine, e.g. an unexpected machine stoppage, to the operator's mobile phone. This enables the operator to intervene at short notice and get the machine back up and running. In addition, DTM has had the mcAnywhere Control system ready-installed, permitting remote-control of the wire EDM machine online from a PC.
With the comprehensive functions and optional extras of the MV2400R wire-cut erosion machine, we are ideally positioned for further growth.
From their homes or any office workstation, employees can then make use of selected functions of the MV2400R. As Hernández sums up, he sees himself ideally set for the future with the manifold functions of the wire-cut EDM machine from Mitsubishi Electric.
"So far we haven't made use of all of the functions of the MV2400R. Nevertheless, we are convinced that, with this wire-cutting machine, we shall be able to cost-effectively and flexibly produce top-quality components for sophisticated die casting and injection moulds for many years to come."
Companies in Profile
Name and place of company:
DTM Desarrollo Técnico del Molde
Barcelona
Founding year:
1993
Managing director:
Félix López Blancas
Number of employees:
18
Core business:
Die casting moulds for aluminium and magnesium and injection moulds for thermoplastics
Contact
DTM Desarrollo Técnico del Molde
Carrer de Sant Lluc, 69
08918 Badalona, Barcelona
Spain
Tel +34 933 870-392
Fax +34 933 976-009
info@moldesdtm.com
www.moldesdtm.com