Mitsubishi Electric EDM systems in use at
ANCA Europe GmbH – manufacturers ­challenged by the boom in electromobility.
Sustainability often begins on the factory floors of industry. The best example of this is the cooperation between Mitsubishi Electric and its long-standing partner ANCA Europe GmbH. The principle behind this collaboration is that end users get the best the market can deliver so that they can meet the current and future needs of their customers to the highest degree possible.
ANCA is a leading manufacturer of tool grinding machines. And gearing is becoming increasingly important in the target industries of the company founded in Australia. Shaping of this kind is familiar, for example, from the internal gearing of a planetary gear. However, these shapes are also more susceptible to defects because they are becoming progressively smaller and, in addition, more complex in their contours. The issue of sustainability is a key factor here. The boom in electromobility has led to huge demand for complex gearing (this is a strategic focus). And that's not all.
For gearboxes in aviation are also being built increasingly lighter and more durable, and energy efficiency is also a major issue here. Even the tiniest components such as pinions can contribute a great deal to this. Engineers in the sector are already stressing the vital importance of gearing.
And now Mitsubishi Electric EDM (electrical discharge machining) is coming into play. Mitsubishi Electric's EDM machines known as EDM-DRESS are excellent for dressing metal-bonded grinding wheels, which are vastly superior to the resin-bonded grinding wheels still commonly used. They are much more dimensionally stable and allow significantly higher grinding feed rates. This means that the e-mobility-driven challenge of improving precision and efficiency while reducing costs can be met with metal-bonded grinding wheels machined on the Mitsubishi Electric EDM-DRESS.
Skiving is six to eight times more efficient than moulding, more flexible than broaching and is capable of creating internal and external meshing.
As a result, the grinding wheels conditioned on Mitsubishi Electric EDM-DRESS machines enable ANCA machine tools to perfectly meet its customers' high complexity requirements. This cooperation is of great benefit for all customer groups, especially with regard to the increasingly demanded skiving.
The first successfully implemented joint projects already illustrate the advantages of the EDM-DRESS in daily production. After only a short period of use, customers are reporting enormous improvements in the precision of the manufactured tools, as well as major productivity gains in the triple-digit percentage range.
It started with a mini computer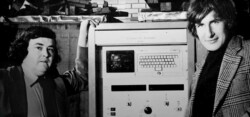 When Pat McCluskey and Pat Boland founded ANCA over 40 years ago in 1974, they purchased a mini computer for $4,000. Their basic idea was to replace the hardwired controls of the time with a standard computer. Adding the computer to NC thus CNC resulted in a much more powerful and flexible technology than the hardwired logic designs that were current at the time.
Today ANCA is a thriving business with over 1,000 employees and a world leading manufacturer of CNC grinding machines, motion controls and sheet metal solutions. While the global headquarters remain located in Melbourne, Australia; due to the niche market it services, it exports 99% of its products with customers in over 45 countries and offices in the UK, Germany, China, Thailand, India, Japan, Brazil and the USA as well as a comprehensive network of representatives and agents worldwide.
Companies in Profile
Name and place of company:
ANCA Europe GmbH
Germany
Employees:
72 (ANCA Group: 1100)
Founding year:
1991 (ANCA Group: 1974)
Management:
Edmund Boland
Headquarters:
Melbourne, Australia
Core business:
Mechanical engineering company in Weinheim, Baden-Württemberg. Leading global manufacturer of CNC grinding machines, motion control systems and sheet metal solutions. ANCA has changed tool grinding for good with its innovative ideas and technologies.
Contact
ANCA Europe GmbH
Im Technologiepark 15
69469 Weinheim
Germany
Tel +49 6201 84669 40
Fax +49 6201 87508 13
gerinfo@anca.com
www.anca.com