A new technology for a higher profile
What's the best way for a jobshop to improve its market standing? AMEP in La Chapelle has added wire-cut EDM to its armoury of machining techniques consisting hitherto of turning, milling and grinding. The production company benefits from this in two ways: firstly, by improving its flexibility and value ­generation; and, secondly, by attracting new customers.
Greater flexibility and value added.
As a manufacturer of small precision parts, AMEP's business has undergone remarkable development. It all started in a small workshop in 2000 with two partners, Jean-Pierre Morin and Christian Mignon. On conventional milling machines and later, with the purchase of a new grinding machine, they produced various metal components under contract. Within a few years, the company had made a name for itself as a maker of precision turned parts. Morin, today one of the two bosses in La Chapelle, describes what happened next: "In 2009, an economically extremely difficult year, my partner Christian Mignon and I decided to adopt a proactive strategy. Contrary to the general trend, we invested in a third machining centre, as these machines were going very cheap at the time." The strategy of extending his services with a new machining technology subsequently proved to be highly successful. Attracting new customers, the still young and small firm emerged from the economic crisis with renewed vigour. Today, AMEP in La Chapelle generates annual sales of EUR 950,000 with twelve highly skilled employees.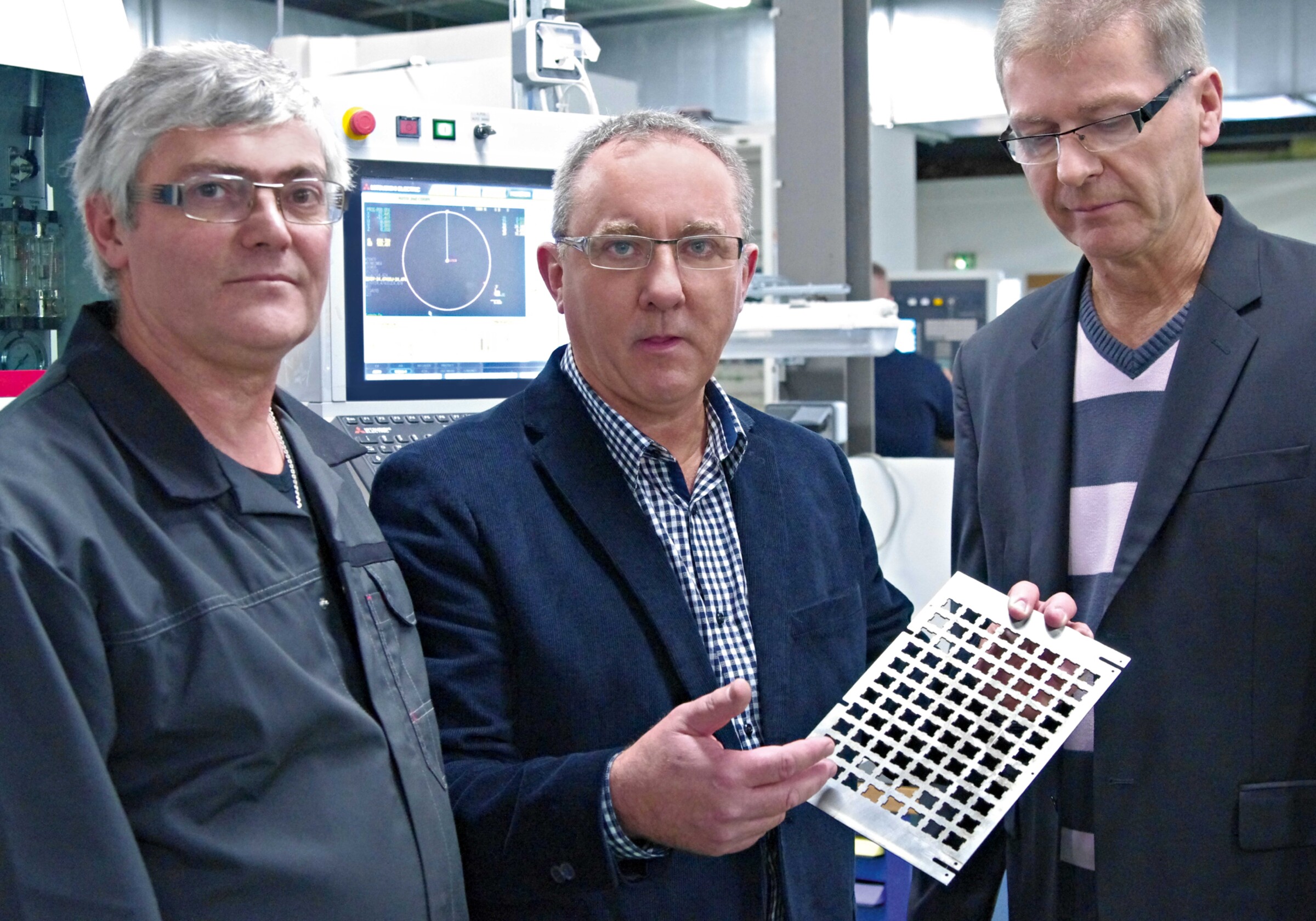 Jacques Meudec, wire EDM specialist, and Jean-Pierre Morin and Christian Mignon, who jointly manage AMEP (from the left), are delighted with the high-grade ­machining results of the MV1200S wire-cut EDM machine during the cutting of press samples.
Comprehensive knowledge and experience.
The machine park consists of three machining centres, two NC-controlled lathes, two grinding machines and three conventional lathes. The company now has an air-conditioned measuring room and modern 3D measuring equipment. With its great reliability coupled with outstanding quality, AMEP is a highly reputed and much appreciated partner in the region. The jobshop does business with automotive engineers, fastener manufacturers and the aerospace industry.
Continuing the successful ­strategy
Continuing business success has prompted Morin and his partner Mignon to extend their production site in La Chapelle several times. In addition, they decided in the summer of 2014 to invest in the future by adding a new ­machining technology – and purchased an MV1200S wire-cut EDM from Mitsubishi Electric. "Wire erosion is a sensible addition to our range of activities. For special components of high quality and precision, we now have the complete array of machining technologies on our site," Morin explains. Wire-cutting yields several decisive advantages for a jobshop, mainly by boosting flexibility. Independently of subcontractors, the company can now make complete components itself at low cost and short notice, whatever the machining technology required. In addition, the jobshop has enhanced value generation on its own site. As Morin reports, he used to have to subcontract out annual orders worth about EUR 50,000. "In addition to the financial side, expertise is also an important factor. Thanks to our extensive knowledge and our accumulated experience of a machining technology, we can estimate our costs and the required time to produce a component much more accurately. This means we can quote a price much faster and with greater precision in response to an inquiry," Morin adds. "What's more, specialised and exotic technologies like wire-cutting give us a higher profile as a specialist company in eyes of the customer."
Aspiring to the very highest quality.
Familiarisation within a matter of weeks
Morin and Mignon had plenty of reasons for choosing an MV1200S from Mitsubishi Electric: "We initially had a number of recommendations from neighbouring companies who had been very satisfied with their experience of machines from Mitsubishi Electric. They stressed above all the high quality, reliability and fully equipped state of the machines. What finally clinched our decision, however, was Mitsubishi Electric's technology database strategy," Morin adds. To give effective support to still inexperienced users of wire-cut EDMs, the database contains suitable and proven process and machine parameters for a huge range of materials and machining tasks. The control of the wire erosion machine effectively puts over 40 years of accumulated experience of the technology at the user's disposal. This makes getting started with wire-cut EDM much, much easier. The programmer and operator can quickly and simply configure the process with the stored parameters in such a way that machining is successful from the outset. With increasing personal experience, the operator can of course modify the parameters to suit his own needs. In doing so, he is aided by the software ergonomics of the current ADVANCE PLUS control from Mitsubishi Electric. As Morin confirms, his skilled employee Jacques Meudec was able to accurately machine the first workpieces on the MV1200S from drawings after only a few days. After just three or four weeks, wire erosion was fully integrated in production – with Meudec being assisted by his own previous experience of wire-cutting technology.
Unsupervised production
Meudec imports the drawing data for the workpieces awaiting machining from the MasterCAM CAD/CAM system. For single pieces, he can also program the geometries at the machine. After what is now several months, he particularly appreciates the reliable ­operation of the MV1200S. He can thus cut several elaborate and complex components from a single plate during ­unsupervised night shifts – a process aided by dependable automatic wire threading. In the event of a wire breakage, the machine automatically searches for the re-entry position, rethreads the wire at the breakage point and resumes machining. This function keeps the machine running smoothly. The penetrations on some components have sharp edges without transitional radii. Moreover, the contours of the inserts with 10 to 15° angles have to be cut through the full thickness of the workpiece. And only wire-cutting is capable of this.
Encouraging team spirit
Apart from the technology, Managing Director Morin considers his style of management as one of the keys to the company's success in the positive development of its production activities. "Since our business is small and only has a few employees, we attach great importance to team spirit. As skilled staff, we want our employees to have as much freedom as possible to shape and optimise their work processes themselves. In addition, by ­giving them tasks involving different machining technologies, we want to stretch them and develop their skills. This makes the company as a whole highly flexible. By accepting responsibility for their work, they also become quality-conscious. The result of this is satisfied customers who come back to us with lucrative jobs – in the end, everyone benefits," says Morin outlining his business ethos.
Open Day at AMEP
To quickly publicise their range of services and particularly their addition of wire-cut EDM, Jean-Pierre Morin and Christian Mignon organised an Open Day. Almost 200 specialists and managers from companies of the metalworking and plastics processing industries in the region took up the invitation. On two consecutive days, they had the chance to find out in detail about the machine park, manpower skills and the services of the AMEP jobshop in La Chapelle. As Morin stresses, an Open Day is a unique opportunity to get to know potential customers personally in a business atmosphere and bang the drum for the company.
Companies in Profile
Name and place of company:
AMEP France
France
Founding year:
2000
Managing Directors:
Jean-Pierre Morin
Christian Mignon
Employees:
12
Core business:
Jobshop for precision parts as prototypes and in small series for fastener manufacturers, packaging specialists, and the automotive and aerospace industries
Contact
AMEP France
46, zac du Moulin aux Moines
72650 La Chapelle
Saint-Aubin, France
Tel +33 2 43 241 349
Fax +33 2 43 283 781
contact@amepfrance.com
www.amepfrance.com