Making tools and fixtures on an ad hoc basis.
Before vehicles are produced in large series, automotive manufacturers test and check the properties and functions of all components under different conditions. all-forming GmbH in Kappel-Grafenhausen in southern Baden specialises in the production of the prototypes and pilot series required for this. With surprising ideas and in-depth expertise, the team develops and fabricates the required tools and fixtures. This is where the specialists appreciate the huge potential of wire EDM technology.
The production department at all-forming in Kappel-Grafenhausen appears at first glance to be a jumble of machines for a wide variety of machining processes. In addition to CNC milling machines and lathes, there are mechanical and hydraulic presses as well as (3D) laser cutting machines, electric and hydraulic press brakes and swivel bending machines. There are also a number of workstations for riveting, soldering, welding and assembly. Sebastian Singler, production manager at all-forming, explains: "We operate as a skilled service provider in the development of components and devices of the future. We produce the prototypes and pilot series required in the development process. What sets us apart is our creativity when it comes to fabrication processes along with our extreme flexibility in our work. All-important is being able to produce the required components as one-offs or in small series as quickly as possible with the aid of industrial production processes so that they can be installed and used like series components. Lead times of two to three weeks are common, and between five and six weeks for tool-related parts."
Wide-ranging diversity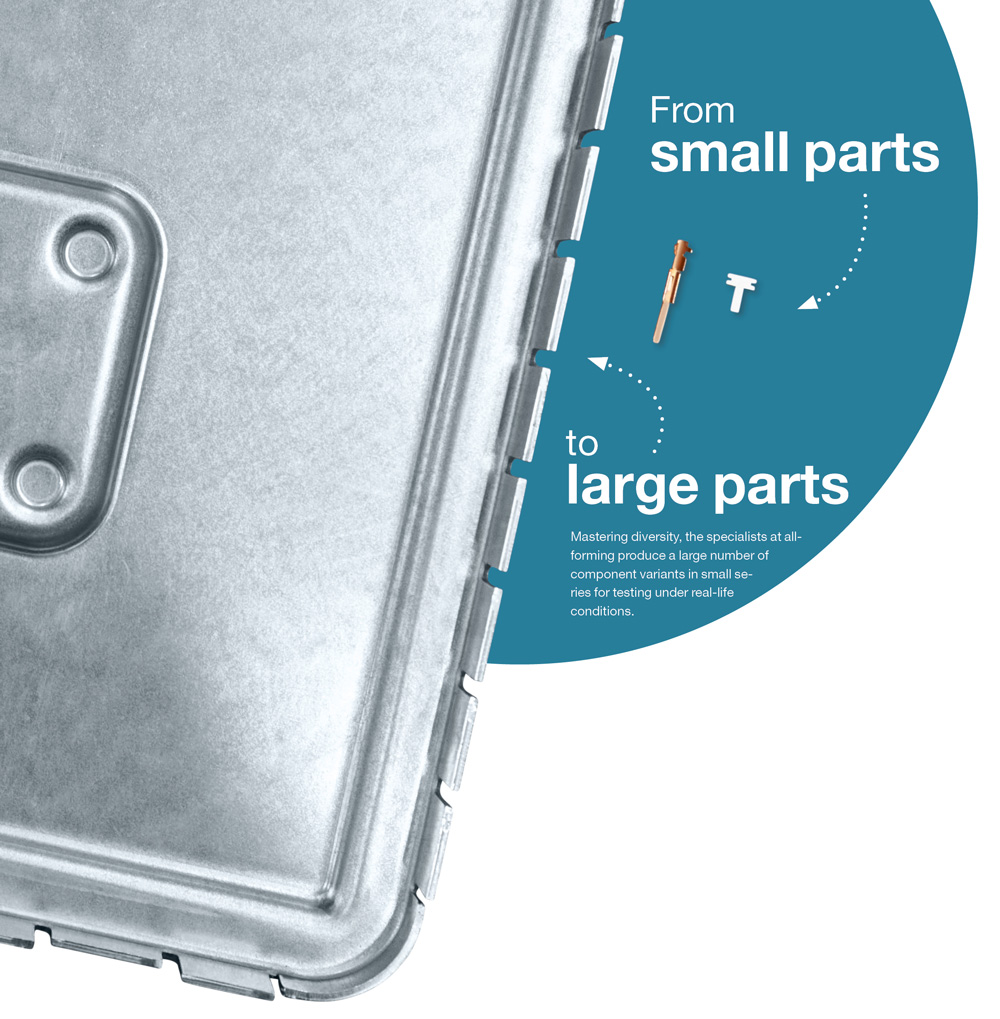 Singler and his team fabricate a vast range of components. "We turn, drill and mill functional specimens from the steel or aluminium blank. This applies, for example, to engine brackets, articulated arms and housing covers. However, we also produce a multitude of components by punching, forming and bending 0.1 mm to 5 mm thick sheet metal. Recently, for example, we had to produce a pilot series of several hundred arms for windscreen wipers from 4 mm sheet metal." However, in most cases it is a question of stamping and forming thin sheet metal and assembling the parts into complete components. "In prototype manufacture, we are directly experiencing the current shift towards electromobility. In addition to housings, we are increasingly producing plug contacts and complete connectors for vehicle electrics and electronics," Singler explains. To this end, the specialists in Kappel-Grafenhausen have a comprehensive toolshop as well as a large number of workstations for joining and assembling the components. Contact springs measuring only a few millimetres, for example, are bent from copper on program-controlled swivel bending presses. Then, on mechanical presses, contact pins are pressed in. Singler tells us he also enlists regional partner companies to injection-mould plastic housings around the contacts he machines, so that he can supply components fully ready for installation. Recently, for example, the prototype builders at all-forming have been producing electronic housings with integrated electrical contacts for a wheel hub drive.
Rapid throughput required
Singler stresses that when it comes to the production of prototypes and pilot series, ingenious and creative toolmaking is crucial for success. The essential criterion is to produce functioning stamping and forming tools, on which a few dozen or a few hundred workpieces can be produced, with minimal time for throughput. To produce their punching and forming tools, the specialists at all-forming have been using the wire erosion process for many years. all-forming invested in an MV2400R wire-cut EDM machine in the middle of 2022 because the machine previously used had proved to be outdated in terms of programming and operation. In addition, it had been increasingly difficult to obtain skilled after-sales service.
What's more, the MV2400R has a very large workspace that is easily accessed by the machine operator. The latter proves to be particularly important for us, as we frequently machine changing one-off parts.
Sebastian Singler, Production manager at all-forming
High productivity thanks to large workspace
He and his skilled staff, says Singler, decided in favour of the wire EDM machine from Mitsubishi Electric for several reasons. "First of all, the MV2400R Connect comes with a cutting-edge and future-proof programming and operating approach. We benefit from state-of-the-art touchscreen operation. In addition, interfaces to current CAM systems are readily available. What's more, the MV2400R has a very large workspace that is easily accessed by the machine operator. The latter proves to be particularly important for us, as we frequently machine changing one-off parts," Singler explains.
The components to be cut are programmed on a CAD/CAM workstation using the 3D CAD workpiece data. The data for the NC program for wire EDM are sent to the MV2400R Connect via a direct data line. There, the wire EDM specialist retrieves the current production orders and NC programs and loads the machine with sheet metal accordingly. The advantage is that several different pieces of sheet can be positioned in the large workspace. The toolmakers in Kappel-Grafenhausen have created a modular clamping device specifically for this purpose, thus allowing the trouble-free multiple clamping of sheet and blocks. In conjunction with job programming, the MV2400R can cut several workpieces overnight in a single unsupervised operation. This goes a long way towards producing stamping and forming tools at short notice, Singler points out. As confirmed by all-forming's production specialists, the reliable automatic wire threading of the MV2400R ensures that the set-up and programmed jobs are actually executed overnight. In the meantime, thanks to these advantages, the productivity of the wire-cut EDM machine from Mitsubishi Electric has proven so good that, in Singler's opinion, it could easily replace two machines of a different make.
Identifying the process benefits
Another useful feature for the toolmakers at all-forming is that the wire-cut EDM process can run unattended, giving it a decisive advantage over HSC milling. This opens up additional production capacity, the specialists confirm. Since skilled personnel are not tied to supervising the machine, they can be productive elsewhere, such as in the assembly and adjustment of the punching and forming tools. The toolmakers see another advantage of wire-cut EDM, as yet largely unnoticed, in the machining scope offered by the narrow kerf. Firstly, it is possible to machine difficult geometries with corners, narrow and deep grooves and penetrations of any kind. Secondly, machining can be programmed to enable a complete punching tool to be completed in a single cutting operation. "That may surprise some people. But for our purposes, all it takes is a 0.2 mm thin wire to cut the punch, die and blank holder out of the sheet in a single cut. The gap resulting from the wire diameter during wire eroding is acceptable and sufficient as a kerf for a punching tool for prototypes. In this way, we can produce all the shaping parts of a punching tool within a few hours in a single operation on the MV2400R," Singler explains.
Similarly, the toolmakers also achieve extra-fast throughput when machining welding electrodes with wire EDM. To do this, they first wire-cut the required profile out of a copper block, and then they use wire erosion to cut this into numerous slices just 0.85 mm thick. Only a few steps are then required to machine the blanks to their final shape.
Previously considered somewhat exotic, wire-cutting technology is thus becoming a preferred manufacturing process, especially in toolmaking.
The all-forming GmbH toolmaking team
Impressive operating principle
In the first weeks after commissioning, staff took a while to get used to programming and operating the MV2400R wire-cut EDM machine. The principle of the touchscreen and graphically guided dialogues on the screen, says Singler, is clearly different from the programming and operating functions using numeric and special function keys that they had been accustomed to. However, the specialists in Kappel-Grafenhausen were quick to appreciate the benefits of the advanced programming and operating approach. Handling the MV2400R can be learned intuitively within a few days, they now say. Moreover, numerous processes and functions on the graphic touchscreen are self-explanatory. "This simplifies and accelerates work with the Mitsubishi Electric wire-cut EDM machine quite considerably. Previously considered somewhat exotic, wire-cutting technology is thus becoming a preferred manufacturing process, especially in toolmaking."
all-forming GmbH
Founding year
In 2008 by taking over the existing Geier GmbH
Managing director
Klaus Lauppe
Employees
29
Core business
Workpieces machined in steel, aluminium, copper and plastics on the basis of drawings, samples and 3D data; sheet metal parts laser-cut, punched and formed for functional specimens, prototypes and pilot series; and components assembled by welding and riveting, manually and semi-automatically, for the automotive industry, medical equipment technology, precision mechanics, electrics and electronics
Contact
Gewerbestrasse 7
77966 Kappel-Grafenhausen
Germany
Tel: +49 7822 8610-0
info@all-forming.de