Findings from 22 years with Mitsubishi Electric.
Since its inception in 1994, Carlow Toolmaking Services Ltd has specialised in manufacturing components, jigs and fixtures for the medical device, oral health care, pharmaceutical and automotive industries. To support its growth trajectory, the Carlow-based company in the Irish Republic has continually invested in Mitsubishi Electric EDM technology from the Engineering Technology Group (ETG).
Continuous growth for Carlow
John Whelan, Design Engineer at Carlow Toolmaking Services says: "We make jigs and fixtures for the medical industry and we have a contract toolroom, so we do a little bit of everything. At present, we have parts here from an old steam engine that we are producing right through to high-end medical device equipment. 22 years ago we bought a Mitsubishi FX10 wire EDM machine – and it is still running every day."
With the Carlow based company enjoying continued growth, it added a second Mitsubishi Electric EDM machine, an MV1200S five years ago. This has since been followed by a Mitsubishi Electric MV2400R that was installed before the Covid pandemic. However, the global hiatus on much of the manufacturing industry hasn't halted progress at Carlow Toolmaking and the start of 2021, it added a second Mitsubishi Electric MV1200S wire EDM.
22 years ago we bought a Mitsubishi FX10 wire EDM machine – and it is still ­running every day. John Whelan, Design Engineer at Carlow Toolmaking Services.
The first machine has proven its longevity
John explains why the company keeps investing in Mitsubishi Electric machine tools from ETG: "Obviously, the longevity has been proven with our first machine, plus the fact that we use the same software – the training curve was a lot easier by sticking with a Mitsubishi machine rather than switching to another machine." Pat Amond, Director at Carlow Toolmaking Services adds: "What it has helped us change at Carlow Toolmaking Services over the last couple of years is the efficiency on the machines. We are dealing with ETG and Mitsubishi, and this has enabled us to be more efficient and helped us to produce jobs easier and quicker, which is a major benefit to Carlow Toolmaking. With an awful lot of the higher-quantity parts we are making at the moment, we are using the Mitsubishi wire eroder rather than our milling machines. Over the years we have discovered that we can stack parts and prepare them on the EDM and it is more efficient. Additionally, the machines can run overnight unmanned and this has given us an edge over our competitors; and our customers have benefited from that."
Over the years we have discovered that we can stack parts and prepare them on the EDM
and it is more efficient.
Pat Amond, Director at Carlow Toolmaking Services.
The new machines are faster and better
Looking at the evolution of the Mitsubishi Electric machines since the company bought its first wire EDM 22 years ago, John Whelan says: "The interface has changed and it is a lot slicker and the speed has improved. The stainless steel tanks on the newer machines are much easier to clean – and they do the same job as they always did." The two MV1200S wire EDM machines and the MV2400R incorporate Mitsubishi Electric's Tubular Shaft Motor technology that delivers extra-smooth axis movements with drives positioned right in the centre of the moving weight. In addition to smooth axis movement and high precision, the machines have linear scales right next to the workspace to give the user maximum accuracy right from the start. In fact, Mitsubishi Electric provides a 12-year positional warranty on all drives. Regarding the upgrade to the control interface, the new ­19-inch touchscreen control interface provides onboard CAD/CAM programming with complete import function for 2D, IGES and DXF files to streamline workflow. Added to this is an integrated maintenance monitoring function that monitors wear on all consumables such as rollers and bearings, and an EDM wire spool monitoring function that allows the operator to determine how much wire is left on each spool.
The machines also run unmanned at night
When asked if the Irish company is running the machines at their limits, John says: "We tend to run overnight when we have the right type of work to go on the machines. We also cut a wide range of materials here, and anything conductive can be wire-eroded. So, we can cut anything from graphite right through to PCD. At the moment, we are cutting a bronze component that conventionally may have been milled, but it is much better to do this job on the wire EDM. We tend to do jobs slightly differently. We think around wire eroding rather than milling. As we design many jobs in-house, we design to suit our abilities. So, we very often design around wire erosion as it is more efficient."
Adding to this, Pat comments: "Over the last number of years, John and Conor in our design department have the Mitsubishi wire eroder in mind from the very beginning when they are doing the initial design of components. This allows us the benefit of working overnight unmanned and our customers get the benefit because, from the very outset, there are no modifications. We provide a concept from the very beginning and then we supply a finished product that is ready to go."
New opportunities with the MV2400R
Commenting upon this method of working, ETG's resident EDM expert, Mr Scott Elsmere says: "Carlow Toolmaking has intelligently adapted its strategy whereby the profiling of multiple components can be undertaken on an EDM machine as opposed to a machining centre. By using an EDM machine to profile parts rather than rough milling, manufacturers like Carlow Toolmaking can reduce labour and costs by profiling parts overnight unmanned. This adds capacity to milling departments whilst reducing cutting tool costs, power consumption and even eradicating excessive swarf from the process."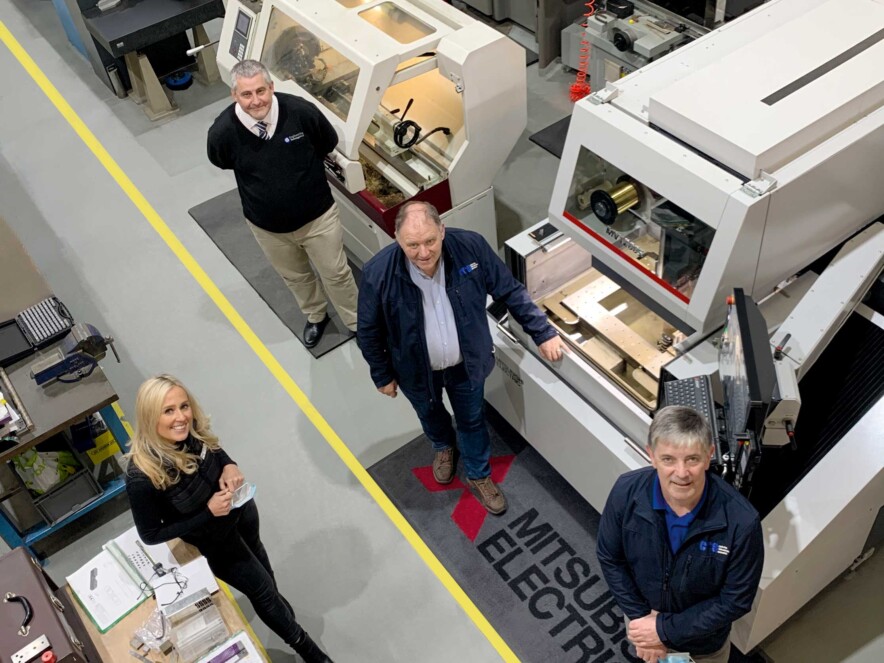 Looking closer at the component modelling and the difference between the oldest FX10 Mitsubishi Electric and the new MV1200R and MV2400R machines, John says: "With the Mitsubishi FX10 machine, we had a capacity of 350 by 250 by 220 mm in the X, Y and Z axes. When we purchased the first MV1200S, we effectively had the same capacity – but it was a much more efficient machine with the modern interface. Eventually, we needed extra Z-axis capacity so we moved up to the MV2400R. This machine has 600 by 400 by 305 in the X, Y and Z axes. That capacity opened up a lot of doors for us with extra capacity in the Z-axis that we couldn't cut on the other machines. Customers were asking for us to machine larger parts and we had to turn work away because we didn't have the capacity."
The ETG team are always at the end of the phone and they will get back to us straightaway to resolve any of our queries – no money can buy that kind of service level.
Pat Amond, Director at Carlow Toolmaking Services.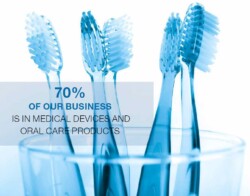 Looking at one specific component for gripping the bristles of toothbrushes during production, John says: "Once we have the CAD modelling done, we create a 2D profile for this particular part, and this can be transferred directly into the machine to wire-cut the part. The tolerances are very tight on this part because the fibre on your toothbrush is very fine. With the Mitsubishi machine, it is really easy to reproduce that part again, so if we need to replace or interchange parts – this is very easy as we can guarantee that it will be a like-for-like process."
Service that no one can beat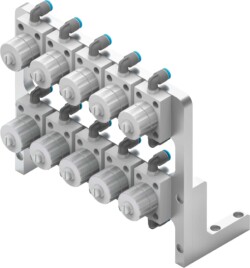 Pat concludes: "What has changed for us here over the years at Carlow is the way that we do our work. We now do a lot more medical device and oral care work, which now accounts for around 70% of our business. Over the last six or seven years, we have changed our processes and it has made us a lot more efficient, and both Carlow toolmaking and our customers have both benefited from that. The service and support that we have received from ETG on the Mitsubishi machines have been second to none. Over the years, we have always gone back to ETG because they are so easy to contact and they will always help you out, whether it be on the service side or a programming issue or anything like that. The ETG team are always at the end of the phone and they will get back to us straightaway to resolve any of our queries – no money can buy that kind of service level."
Concluding on this level of service, ETG's Scott Elsmere says: "At ETG, we provide comprehensive 5- or 8-day training programmes, which is beyond the realms of our competitors. Mitsubishi Electric machines are also equipped with technology capable of data output, in order to establish a live connection from the machines to approved service computers. This maximises machine uptime and provides unparalleled levels of remote support."