3D printing has become a proven technology in many sectors. With the micro laser sintering process, additive manufacturing is now conquering entirely new fields of application. Complex products with optimised geometries ranging from a few millimetres to a few centimetres are created on 3D MicroPrint machines. To cut these high-precision workpieces from the platform and rework them, the Chemnitz-based company resorts to EDM equipment from Mitsubishi Electric.
3D MicroPrint GmbH came into being in 2013 as a result of cooperation between EOS GmbH and 3D-Micromac AG. "Starting in 2006, we developed our micro laser sintering technology to series maturity and then launched the first 3D printer on the market in 2013," Managing Director Knut Hentschel explains. "Our team was convinced of the massive potential of this technology from the very outset – and developments over the last ten years have fully vindicated us."
Additive manufacturing and micro-machining
Micro laser sintering is the first technology to combine the advantages of additive manufacturing with those of micro-machining. In metal printing, macro-additive processes operate with layer thicknesses of up to 150 micrometres and grain sizes of up to 80 micrometres. This means that these processes can print complex workpieces within tolerances of a few tenths of a millimetre.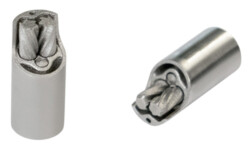 "If narrow tolerances and high precision are required, conventional printing processes are pushed to their limits. This is where MicroPrint technology comes into its own," says Hentschel. Micro laser sintering allows high-precision workpieces to be printed with tolerances in the range of a hundredth of a millimetre and with high surface quality.
If narrow tolerances and high precision are required, conventional printing processes are pushed to their limits. This is where MicroPrint technology comes into its own.
Knut Hentschel, Managing Director of 3D MicroPrint
Powder bed process
"Our printers are micro laser sintering machines on the principle of the powder bed process," Hentschel explains. With this additive manufacturing method, the powder is melted with a laser spot of less than 30 micrometres. Three-dimensional micro-objects are built up with layer thicknesses of under ten micrometres. For this, the company uses powders with grain sizes of around five micrometres. For very fine structures, the Chemnitz company also processes grain sizes of less than one micrometre. "The finer the powder, the more precisely the contours can be formed," says Hentschel. "Smaller grain sizes and thinner layers also mean longer run times, but this also means the process is incredibly precise when it comes to forming contours and geometries." This is what distinguishes 3D MicroPrint's machines from standard printers. And with this technology, the company has succeeded in opening up new opportunities for medical technology, electronics, watch making and jewellery production.

Three mainstays
3D MicroPrint concentrates on three business areas. Service business takes centre stage. The company offers its customers the complete production-to-order of series parts and one-off prototypes as well as comprehensive series production. This includes design and material development as well as the preparation of feasibility studies and functional models.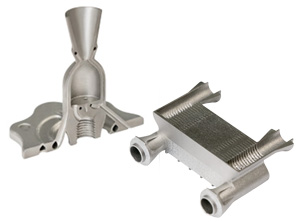 The development and distribution of its own laboratory and production equipment is another focus of 3D MicroPrint. If customers in medical technology or computer systems, for example, want to protect their own development work, the company supports them in technology and process development. This enables customers to produce their components on their own micro laser sintering systems.
Pure gold
It is possible to print gold. And the specialists at MicroPrint don't need an alchemist to do it. All they need is a 3D printer stocked with gold powder. Jewellery designers have discovered this technology for their work, as it allows them to create out-of-the-ordinary pieces of jewellery whose shapes and geometries are difficult to achieve using classical methods. In addition to gold, the order list of the jewellery segment also includes a number of other materials such as tungsten. Using this versatile metal, the Chemnitz-based company produces, among other things, pendulums for automatic wristwatches.
Micro-components for aerospace
But it is not only designers who appreciate the merits of MicroPrint technology, for engineers in the aerospace industry are now 3D-printing micro-nozzles. Micro-nozzles are the preferred solution for measuring the tiniest fluid flows. "Among other things, we develop and build the tiny measuring nozzles used in the aerospace industry," Hentschel explains. Besides this, the company also manufactures microwave couplers and high-frequency antennas as well as micro-engines for steering small satellites. Measuring only two to three centimetres, these thrusters are highly efficient and able to keep small satellites on course.
From copper to stainless steel
Just as varied as the fields of application are the materials used for printing. "For the manufacture of our series products, we process two medical stainless steels and, for implants, different classes of titanium," says Hentschel. For the high-temperature range, 3D MicroPrint has materials such as Inconel in its portfolio. To obtain the desired properties, the choice of printing material is crucial, so the company is heavily involved in materials development.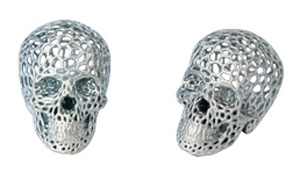 "In our laboratory, we can develop customised alloys tailored to customers' needs," Hentschel continues. "We can define all the technical parameters of a formulation and do all the necessary test runs."
Releasing printed workpieces from the platform
The company's first generation of machines still operated with round, 60 millimetre platforms. With the latest generation of machines, 3D MicroPrint was able to expand the print area and hence capacity by a good 20 per cent by using square platforms. "And this is where Mitsubishi comes in," says Hentschel. "In order to release the printed workpieces from the platform, precise, thin cuts are required."
In the early years, the company got an external service provider to cut the workpieces from the platform. "Our service provider did this with a Mitsubishi machine," says Hentschel. "The quality and the price-performance ratio were right. Outsourcing has a number of advantages, but it reaches its limits when the order exceeds a certain volume."
Reworking workpieces
On the basis of their positive experience, it was obvious for the decision-makers at 3D MicroPrint in their search for the right EDM technology to put their trust in a Mitsubishi Electric machine. "We have been using our MP1200 Connect since 2018," says a satisfied Hentschel. "In addition to the separation cuts, we can also use the MP to rework very delicate workpieces to perfection." One example of this is the grippers of minimally invasive instruments. The company prints these instruments in a single piece and the teeth are then subsequently separated by wire-cutting. "This way we adapt the jaw structure to the customer's individual requirements," says Hentschel. "With this mixed machining of printed mechanism and eroded jaw shape, we utilise our machines to the maximum."
In addition to the separation cuts, we can also use the MP to rework very delicate workpieces to perfection.
Knut Hentschel, Managing Director of 3D MicroPrint