More axes, greater scope, higher precision
Multi-axis technology extends the application range of wire EDM machines.
With its multi-axis and spindle technology, ITS-Technologies is writing a new chapter in high-precision wire EDM. Mitsubishi Electric was quick to spot the ­potential of this technology and was the first manufacturer to offer cooperation.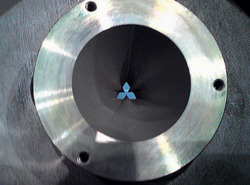 With the ITS hollow axis it is even possible to erode the Mitsubishi logo with micrometre precision in a single clamping operation.
Machining intricate structures with extremely low tolerances used to be barely possible with conventional technologies. However, ITS-Technologies has found the solution with its multi-axis system. With the new technology, ITS-Technologies has rolled back the boundaries and considerably extended the machining range of wire EDM machines– a big step forward technically. In addition, the ITS technology makes it possible to machine complex small parts in a single clamping operation and to mass-produce workpieces that are difficult to machine conventionally. For all products, the developers are keen to find not only precise, but also time-saving and inexpensive solutions.
All the same, manufacturers of EDM machines have initially shown little enthusiasm for this innovation. "When we introduced the leading EDM machine manufacturers to our innovative multi-axis technology in 2010, most companies had strong reservations," Managing Director Berthold Brandecker recalls. "However, Mitsubishi immediately identified the potential of this technology and offered to work with us." Cooperation between Mitsubishi and ITS-Technologies benefits both sides.
Highest standards of precision and quality
ITS-Technologies is based in Oberndorf am Neckar, in the high-tech region on the fringes of the Black Forest. This is where precision and top quality have a long tradition in the locally established branches of industry, notably clockmaking and defence engineering. The company founded in 2010 is a spin-off of ITS Industrie Team Service, a company with a long history specialising in the development and manufacture of large measuring machines. The company is also responsible for worldwide service and training for all large Zeiss measuring machines. To this end, Zeiss measuring machines are installed in the company's facilities so it can carry out measurements under contract with ranges of up to 2.2 x 3 x 6 metres.
The approach of aspiring to and achieving the highest standards of precision and quality has always been embraced by the employees of ITS-Technologies from its ties with the parent company.
ITS-Technologies goes for innovation
The target customers of ITS-Technologies are the turbine and pump industry, medical and implant technology, and manufacturers of microtechnical components. Production therefore focuses on multi-axis systems as well as spindle technologies for EDM and measuring systems. This also includes the modification of wire EDM machines and construction of machines to customer specification. Special EDM machines for wire, sinker and hole-drilling EDM round off the portfolio.
"Mitsubishi Electric immediately identified the potential of our technology!"
The ITS multi-axes ­deliver maximum ­precision
For production, ITS-Technologies has sought high performance partners within a range of a few kilometres from the company base. However, ITS-Technologies insists on carrying out final assembly and quality control itself so that it can ensure its high standards of quality.
The employees also attach special importance to the development of innovative technologies. For instance, to achieve even greater precision with their own multi-axes, ITS-Technologies has been experimenting with new control technologies that can simultaneously master up to seven axes. The company places strong emphasis here on active process support.
Departure into a new dimension
Totally new is the hollow axis MA2-i-115, which revolutionises multi-axis wire EDM. With this new technology, it is possible to machine not only parts with extremely small dimensions at different angles but also small components with a dual-axis rotary table. Several sides can be machined in a single clamping operation.
Whereas the minimum diameter used to be 100 mm, the hollow axis with an internal opening now offers a perfect solution. The principle is ingeniously simple and involves reversing the existing design of a multi-axis as used in wire EDM. On conventional multi-axes, the diameter of the face plate determines the limits of machining.
The new ITS hollow axis dispenses with the face plate and instead has a continuous opening 115 mm in diameter in which various clamping systems for the parts being machined can be integrated. If the chuck is intelligently laid out as on the MA2-i-115, components with diameters of less than 100 mm can now be machined as well. With this principle, it is possible to machine right into the centre in a single clamping operation.
A dual-axis system in the form of a hollow axis generates free-formed surfaces as familiar from medical technology, aerospace and the automotive sector. Problems with precision, surface quality or from
repeated workpiece reclamping are now a thing of the past. The big advantage of this technology is that machining is always performed with a vertical wire, thus ensuring effective flushing and maximum precision at all times.
Mitsubishi a neck ahead
Interested Mitsubishi customers are already benefiting today from the multi-axis expertise of the Oberndorf company, because the company has gathered wide-ranging experience with these wire EDM machines and realised many projects. A Mitsubishi NA2400 Essence is used by the ITS engineers as a trial and demonstration machine on which new developments are tested and axes are developed further.
Although the NA2400 Essence ranks among the most precise wire EDM machines on the market, the
combination of the NA2400 Essence and the multi-axis system shows that standard of machining precision can be improved still further and the fields of application of these high-end machines can be extended. With the ITS multi-axis, workpieces can be freely positioned in the erosion process, so that machining always takes place with a vertical wire and efficient flushing – an important precondition for maximum precision.
A young team with big goals
The team of the two managers Jörg Springmann and Jochen Hipp is still small with only five employ-
ees. But that is all set to change soon. "Our goal is to reach all European EDM machine manufacturers with our technology within five years," the two managers say.
The advantages of multi-axis technology:
Production of small, complex parts in a
single clamping operation
Series production with materials that
are difficult to machine
Time-saving, precise and inexpensive
For a young company with limited resources, this agenda would be difficult to implement. However, in a strategic partnership with the established parent company ITS Industrie Team Service, many factors can be jointly exploited with positive results. Cooperation yields synergies in administration and logistics as well as in purchasing, quality assurance and, finally, assembly and service. To develop new fields of application for axis-extended EDM through to maturity, ITS-Technologies also cooperates, among other things, with Institut für Mikrotechnik Mainz GmbH, IMM.
Big goals need sufficient space. ITS-Technologies currently still shares its premises with ITS Industrie Team Service. But not for much longer, as Industrie Team Service is building a modern production plant on the edge of Oberndorf this year. After the successful start of close cooperation with Mitsubishi, ITS-Technologies is very optimistic about the prospects of successfully marketing its innovative technology.