With six EDM machines on site from a sole supplier, JVD Engineering was adamant it was sticking with the same brand when it wanted to buy a new EDM. However, a demo of the Mitsubishi Electric MV2400S NewGen from ETG opened the company up to all the possibilities offered by the brand. With an MV2400S NewGen replacing two EDM machines, the company explains why Mitsubishi Electric is now the brand of choice.
When JVD Engineering Ltd realised that its subcontract EDM supplier was looking to wind down the business, ambitious owner and Managing Director Matthew Abraham-Thomas spotted an opportunity and bought the business, bringing it under the JVD Engineering umbrella. As a company that continually invests in new technology, JVD quickly seized the chance to improve EDM productivity with the acquisition of a Mitsubishi Electric MV2400S NewGen EDM machine from the Engineering Technology Group (ETG). Founded in 1991, the Leeds manufacturer that occupies a 1,800 m² factory in Morley, has been on a continuous investment run, turning the company from a manual machine shop to a full CNC facility since Matthew acquired the business from the previous owner. Commenting upon the EDM situation, Matthew says: "When our EDM supplier announced they were closing their business, we stepped in to ensure continuity of EDM services for our customers. It was a simple choice – either bring the work in-house by buying the company or lose the business from our existing customers.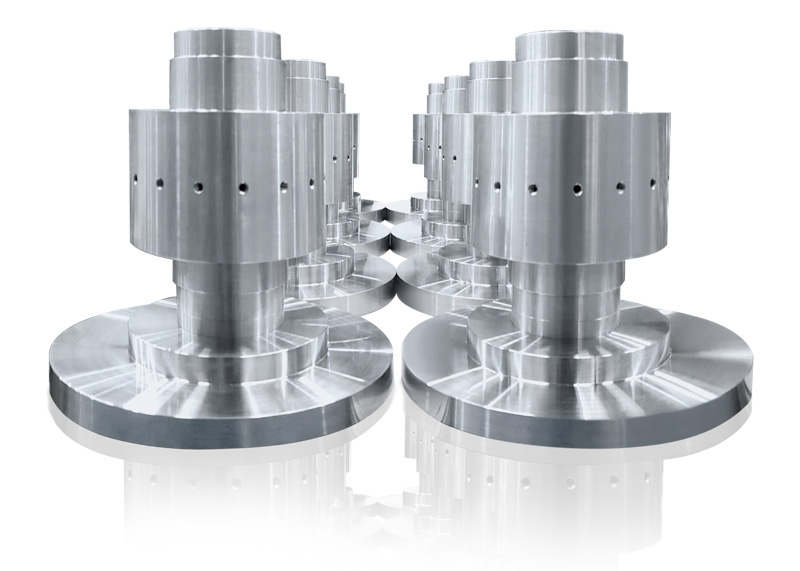 "The business we bought had six ageing EDM machines and only three were fit for daily use. While we incorporated three of these machines into our business, we also wanted to upgrade the technology. With all of the existing EDM machines being supplied by the same vendor, we wanted to invest in the same brand and technology." However, this all changed when Eric Tollet from ETG introduced introduced JVD Engineering to the Mitsubishi Electric EDM machines.
Matthew recalls: "I've known Eric for years and we were adamant we were buying a different brand, but Eric persuaded us to look at Mitsubishi and have a demonstration with Scott Elsmere. Scott demonstrated the Mitsubishi with passion, pride and unfathomable expertise. This was evident when he emphasised all of the positive points of the MV2400S NewGen. Not only did he highlight the positives, but without emphasising the technical shortcomings of other brands, Scott showed us where Mitsubishi won-out over its rivals. When we eventually had demonstrations from alternative vendors, the inadequacies of other brands compared to Mitsubishi were evident and our decision was made."
The Mitsubishi Electric MV2400S NewGen EDM machine was installed in August and the benefits for the 16-employee business have been significant. As a general subcontract machining business, JVD Engineering produces components for a wide variety of industry sectors from a diverse range of materials. While EDM currently remains a small ­element of turnover, it is essential for producing challenging features and complex components such as keyways with very tight tolerances on tool steels and other difficult-to-process materials. It is this continuous throughput of challenging parts that previously required subcontract EDM services and eventually led to the acquisition of an EDM business.
Looking at the Mitsubishi Electric MV2400S NewGen acquisition, Matthew adds: "The Mitsubishi is a large bed machine that has a 400 mm Y axis compared to 150 mm on our existing machines. We wanted this for processing larger parts and laying multiple parts on the machine for simultaneous non-stop production. However, this larger footprint meant we had to remove two of our previous EDM machines to make space for the Mitsubishi MV2400S NewGen. As the previous machines didn't have the powerful and easy-to-use Mitsubishi CNC control or auto-wire feeding, the new machine was instantly more productive than the two machines it replaced. We kept one of the old machines to fall back on – but since the Mitsubishi arrived, we haven't even turned that machine on."
The benefits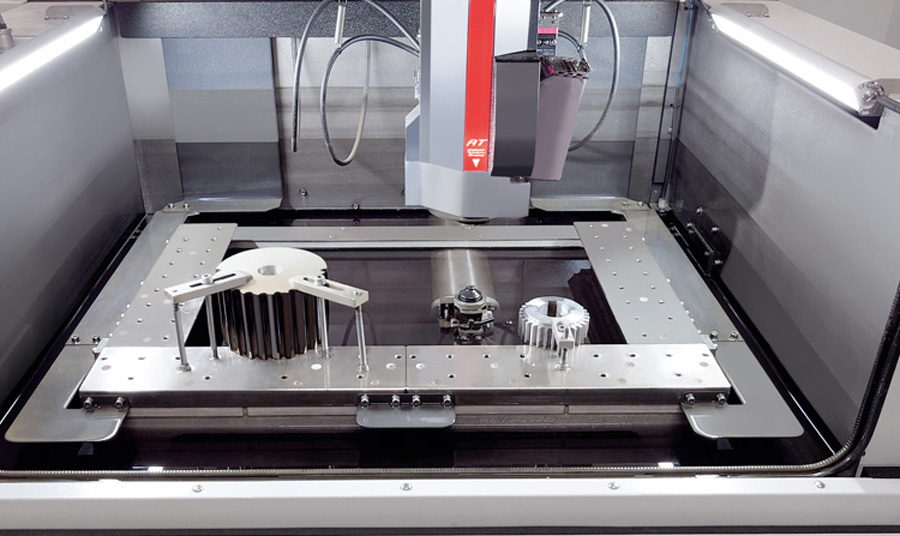 While the previous machines may have been past their best years, the new Mitsubishi Electric MV2400S NewGen is at least four times more productive than its predecessors. As Matthew continues: "The Mitsubishi MV2400S NewGen is four times faster than our previous machines. We recently completed one repeat order and the EDM running time was 38 hours, which is now less than 16 hours on the Mitsubishi. While the cycle time on this part has been reduced by more than 60 to 70%, it is the non-cutting time that is making a difference. Previously, we would have an operator paying constant attention to the machine and having to frequently re-thread the wire – losing valuable processing time and absorbing excessive man-hours. With the auto-wire feeding on the Mitsubishi, the part is set up to run, and we take a finished part off the machine with no intervention."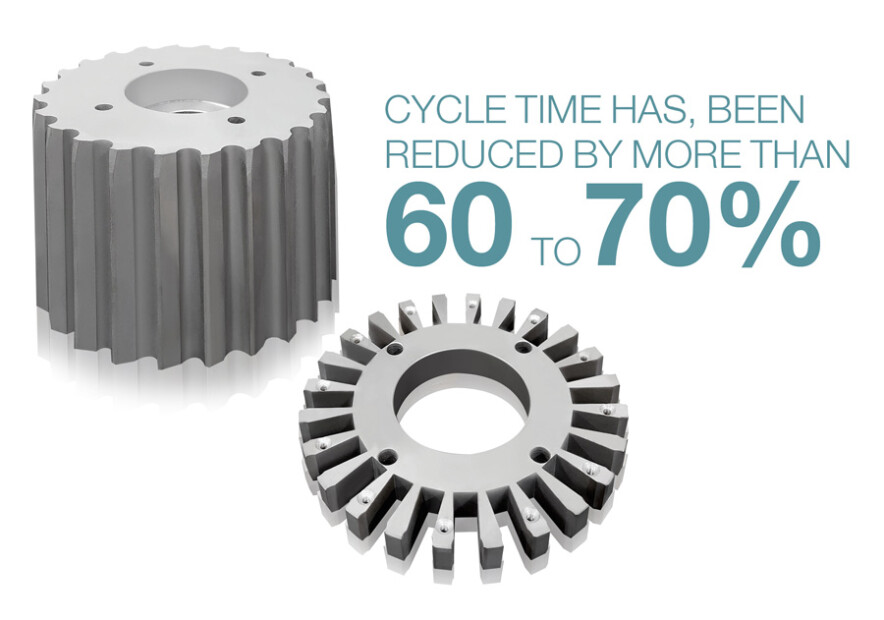 While the machining times are drastically reduced, it is the non-cutting times that are paying huge dividends for JVD Engineering. With technology incorporated such as Mitsubishi Electric's Corehold, E-Packs, and D-Cubes, EDM has never been so user-friendly. Intuitive operation is provided via the large screen with modern gesture control that boosts comfort, while the configurable user interface allows the main functions to be freely arranged during daily work. With step-by-step dialogue guidance, users are piloted through the entire process, from programming to the start of machining. Visible 'at a glance' features include machining status, elapsed production times, state of maintenance and other data. During the preparation of pending machining tasks, support is provided by overviews of the remaining wire, state of filter cartridges, deionisation resin and other parameters. This prevents outages caused by finite consumables or worn parts and optimises machine running times. The complete machine documents inclusive of maintenance instructions are also available with the aid of photos and 3D depictions.
Discussing the innovation behind the machine, ­Matthew adds: "With the previous machines, we would have to enter all our cutting parameters manually. With the Mitsubishi, we load a DXF file of the part into the machine, enter the material type, thickness and area we want to cut and the control system simulates the cutting path and ideal cutting parameters – it is that easy. It is remarkably quick and easy; and once the machine conducts a simulation, it gives an accurate cycle time, so we can quote our customers accurately. Providing a precise quote very rapidly gives our business more confidence and it has also seen us win more work from both new and existing customers."
It machines faster and smarter than any of our other machines and it uses less wire and has a lower ­power requirement than our other ­machines – it really is an ­incredibly ­intelligent ­machine.

Matthew Abraham-Thomas, ­Managing Director
"The intuitive software gives us the running hours and expected life-cycle of all consumables, but more impressively it provides a life-cycle for machine components based on running hours for preventive maintenance purposes. It machines faster and smarter than any of our other machines and it uses less wire and has a lower power requirement than our other machines – it really is an incredibly intelligent machine.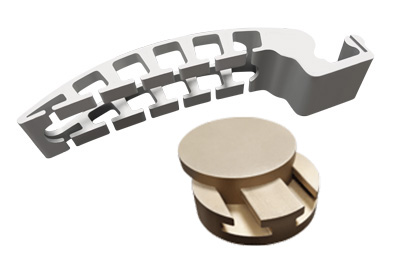 "The machine has a host of additional attributes that impress us daily. We recently had to produce a hydraulic valve guide with a 15-degree taper. The EDM work on this batch of four parts was previously subbed out at 920 EUR per part, as we couldn't find many suitable suppliers. Now, we can do this work in-house on the Mitsubishi. The reduction in our subcontract costs is one reason why this machine is paying dividends to our business. We couldn't be happier with the machine, its technology, the expert service and support from Scott and all the team at ETG," concludes ­Matthew.
We couldn't be happier with the machine, its technology, the expert service and support from Scott and all the team at ETG.
Matthew Abraham-Thomas, Managing Director
JVD Engineering Ltd.
Founding year
1991
Managing Director
Matthew Abraham-Thomas
Number of employees
16
Core business
Subcontractor for parts production
Contact
Fountain St, Morley
Leeds LS27 0AA
United Kingdom
Tel: +44 (0) 113 275 1414
Fax: +44 (0) 113 275 1313
sales@jvdengineering.co.uk
accounts@jvdengineering.co.uk
Sales & Service partner
United Kingdom
Engineering Technology Group (ETG)
Wellesbourne Distribution Park
Unit 16
Loxley Road
Wellesbourne
Warwickshire CV35 9JY
United Kingdom
Tel: +44 (0) 1926 818 418
sales@engtechgroup.com
JVD History
Originally Joint Vehicle Development Engineering Ltd, JVD was founded in 1991 in a small workshop in Leeds. The company started life producing and fitting retrofit kits for air-assisted power steering used in commercial vehicles. As the firm expanded, the technologies it had developed for power steering became increasingly employed in other fields and this diversification accelerated business growth. The company's initials were adopted as a brand name, and the company moved to a more modern environment and continued its investment in state-of-the-art equipment, thus continuing expansion. Today, the company is one of the most modern, adaptable, comprehensive and dependable engineering companies in Leeds.