Progressive production philosophy
SPEMA, a French company that mainly produces tools for the cutting of steel and plastics, accords top priority to its own production philosophy. It's all about values, intelligent personnel management and new solutions for customer applications.
Dominique Renaudat, Managing Director of SPEMA, switches on his laptop and presents his company's key data on a wall monitor. "We've structured our operations so that we can respond quick­ly at all times and offer cost-effective solutions within minimum time. Manage­ment has the decisive task of motivating our employees and communicating our values to them."
Strong commitment
The success of this philosophy is illustrated by an example from last year. This is when the company attracted a new customer by supplying products at short notice despite the input of 1500 working hours. And in the Christmas week as well. Renaudat is proud of his team. "We'd never have pulled of this feat
without the wholehearted support from our staff. Their strong commitment is the result of our management philosophy and is one of our strengths." For this order, a major project from the aerospace industry, the customer turned to SPEMA, although it hadn't had any previous experience with the company. The initial ne­gotiations drew the customer's attention to more efficient production tech­niques that he was unaware of.
It was SPEMA's holistic approach that ultimately brought about the breakthrough. In June 2012 the customer placed a follow-up order and also chose SPEMA as its sole supplier. An out­come that underlines the positive trend that started in 2008 and has since gathered pace. Product quality has improved, good service is provided and the company's reputation throughout the in­dustry has benefited as a result.
High productivity
On his laptop, Renaudat pages through the file showing his product range. "We've specialised in the design, produc­tion and assembly of prototype parts, small and medium series, tools and tool components, and injection moulds. This is where we achieve precision of up to 2 µm." The tools are mainly products for cutting, made for instance of steel, stainless steel and plastics, and control tools. The materials SPEMA machines include magnesium, titanium, aluminium, graphite, medical materials, plastics and composites. With cemented carbide, a Rockwell hardness of 64 HRC is achieved.
In addition to wire-cutting, the company certified to ISO 9001:2000 and EN 9100 offers milling, turning, high-speed ma­chin­ing and flat, cylindrical and profile grinding. The wire EDM machines from Mitsubishi Electric, an FA20-S Advance and two FA10-S Advances, play a key role in production at SPEMA where they are principally used for the production of punches and dies. Using 0.2 milli­metre wire, the company has machining times of 1 to 10 hours and operates a total of seven erosion systems, the three most advanced ones being from Mitsubishi Electric.
Renaudat stands at one of the wire EDM machines supplied by Delta Machines, Mitsubishi Electric Europe's French distributor in Morangis, and holds a component in his hand. "I regard wire erosion as an alternative to other methods because it achieves higher precision. What's more, it can be used for machining extremely hard materials and for machining tasks that would be impossible with any other method." SPEMA also uses erosion systems for tasks ori­ginally conceived for milling machines and thus makes maximum use of its ero­-
sion capacity.
At the control panel of an FA10-S Advance, Renaudat peers over the shoulder of the operator keying in the commands. "The systems from Mitsubishi Electric are very user-friendly – much like a PC. Although we run seven machines in three shifts around the clock and also work on Saturday mornings, we manage with only four oper­ators. This is possible among other things because the erosion machines run for 20,000 hours unmanned per year at night and at weekends and because the automatic wire threader rethreads the wire automatically in only ten seconds."
"The systems from Mitsubishi Electric are very user-friendly – much like a PC."
Everything from a sole source
The optional equipment chosen by the company includes digitally controlled fine finishing gen­er­a­-
tors to achieve surface qualities with a sur­face quality of less than 0.15 µm Ra and, on the FA20-S
Advance, a fully servo-con­trolled B-axis, which is essential for erod­ing sharply angled workpieces. Renaudat points to a cutting guide used in medical technology. "We decided at the time for the additional B-axis because we had been contracted to erode this part with incisions at certain angles."
SPEMA invested in the first wire-cutting system from Mitsubishi Electric, the FA20-S Advance, in 2007 among other things because of the large machining range of 500 x 350 x 300 millimetres (X/Y/Z). Apart from this, the surface qual­ities demanded by one of its customers were unattainable with the machines of a rival manufacturer. The two FA10-S Advances were purchased at the end of 2010 so that it can cost-effectively machine complex smaller components as well. Furthermore, SPEMA needed extra capacity and machines with better technical parameters at the time. What also swung the vote in favour of ME were the better price/performance ratio and the excellent service, competent advice and efficient delivery from Delta Machines.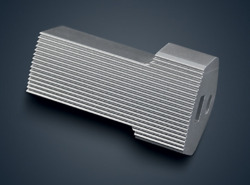 One unfulfilled wish
Asked if he has any unfulfilled wishes, Renaudat, who took over SPEMA in 2002, nods. "In our region, there's a big shortage of staff. We've decided to take on people with a relatively low stan­dard of training or well-trained but inexperienced. We train them in-house. If they show willingness to learn, they make their way in the firm. Otherwise they have to go. In the last ten years, I've only been able to keep 20 of our 45 new recruits. I therefore hope that this shortage will be overcome and that such selection procedures will be unnecessary in future."
Leaving aside this problem, SPEMA is moving ahead strongly now that it has gained footholds in important industries. From a glass cabinet, Renaudat takes a component consisting of several seamlessly joined parts and manufactured for military purposes. "We've managed to attract armaments manufacturers and the automotive and aerospace industries as key customer sectors. In addition, we also serve pro­duc­ers
of medical technology, plant manu­fac­tur­ers in the renewable energy field and the nuclear, food and mineral oil industries." Most customers are located in France. However, SPEMA also works for French customers abroad and for cli­ents in Algeria and Switzerland. Together with its sister company LASSERRE in Vierzon, the Group generates annual sales of some EUR 11 million, twice the figure of ten years ago. As for precision machining with wire-cutting and grinding machines using its own strategies, SPEMA is among the leading French suppliers. Since they supply everything from a single source and even contract the required component suppliers, there's just a single contact for the customer, from design and production through to assembly.
Companies in Profile
Name and place of company:
SPEMA, Issodoun in the province of Berry, France
Founding year:
1967
Managing Director:
Dominique Renaudat
Number of employees:
85 (together with sister company LASSERRE)
Core business:
Design, production and assembly of cutting tools and the production of parts of subassemblies, one-offs and small series
Contact
SPEMA
13, rue du Moulin de la Ville
36100 Issoudun
France
Tel +33 . 254 . 21 1685
Fax +33 . 254 . 21 7869
d.renaudat @ spema.com
www.spema.com