The sweet scent of success
The production of punching and follow-on composite tools is the speciality of Amiet AG in Herisau, Switzerland. With its 13 employees, the family business covers the full range of machining plus design and programming. A few years ago, its owner Hans Roderer ventured into a totally new field of business: that of indoor scent diffusion.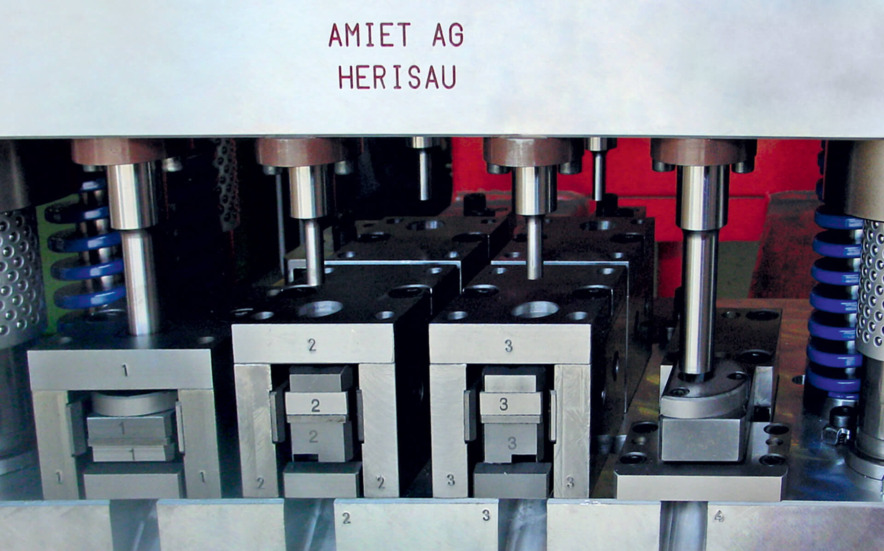 For about 50 years now, Amiet AG has been designing and fabricating tools for all sectors of Swiss industry. The emphasis is on punching and forming tools for CNC punching machines and follow-on composite tools together with a number of in-house developments such as special tools for the forming of aluminium foil and plastic membrane.
Membrane keyboards can be found today in all areas of everyday life. Every toolmaker is familiar with them – among other things, from his EDM and milling machines. To create the key "springiness" and letters, the makers of the membranes used to have to emboss the membranes in a relatively elaborate thermal process. Amiet has developed cold embossing forms for embossing keyboards in the same way as with thermal embossing. The process is very inexpensive, quick and durable.
Amiet's list of customers now has a number of reputed companies from a huge range of sectors – including Huber+Suhner, a developer and manufacturer of systems solutions for high-frequency, fibre optics and low-frequency applications, and the internationally active Arbonia-Forster-Holding AG. The quality is also appreciated by Bühler, the technology expert in machines, plant and ser­vices for the processing of staple foods and for the production of high-grade materials.
"We can now process the tools on our machines within a short time and then individually harden them at acceptable expense."
Since production is geared entirely to precision tools, the scene at Amiet AG is dominated by advanced, high-tech machines. "To satisfy the wishes of our customers and carry out our jobs with the desired quality and within the given time," says owner Hans Roderer, "we have to operate with high manufacturing depth. We can machine hardened steels up to 64 Rockwell." In addition to the classical forms of machining for toolmaking, such as turning, milling, die sinking, wire cutting and start hole drilling plus all the grinding methods, the specialists in Herisau have perfected the hardening process.
Hard and fast
In purely financial terms, the hardening ovens as operated by Amiet are not particularly worthwhile. "Our purchase of a vacuum hardening oven is more of a response to necessity or an expression of our predilection for quality and perfection," Roderer explains. As a specialist in high-grade punching tools, the company used to repeatedly have problems swiftly obtaining properly hardened tool steels. There are a number of high-grade steels available, but when after tool breakage a machine manufacturer needs a fully functional replacement within 48 hours, time soon runs out or the quality of the tool steel employed is less than perfect.
"Our own small hardening shop has solved the problem," Roderer explains. "We can now process the tools on our machines within a short time and then individually harden them at acceptable expense."
In the little vacuum hardening oven, there is space for batches weighing up to 30 kilos. To achieve the desired results, the employees first had to acquire a good understanding of metallurgy and draw on the experience of partners in the steel industry, for instance. With its expertise, Amiet is now able to fully exploit the potential of existing processes. This is the only way of hardening individual parts to perfection with temperature curves adapted to the workpiece in question and adjusting hardening processes to workpiece size.
Heaven scent
The smell that greets anyone entering the Amiet production shop is one of oil and coolant, much like in any other toolshop. So one would never realise that indoor scent diffusion systems are produced here. "How we came across scent diffusion is quite a bizarre tale," Roderer tells us. "Three years ago, a tame crow wandered onto the site. And we wanted to know who the tame bird belonged to and what we should do with it." Animal-lover Roderer contacted the vet in Herisau about its owner. The vet knew the bird and that it belonged to the artist Ms Hezel. Roderer took the crow back to its owner and they got talking. It turned out that the artist's husband was looking for a new innovative partner for the development and production of new indoor scent diffusion devices. "This laid the foundation for cooperation and stimulated interest on both sides," says a gratified Roderer. Today, three years after the first meeting, the newly developed scent diffusion devices are creating a pleasant atmosphere in business rooms, discotheques, car dealerships and specialised hospitals. Another highly promising new development is an indoor scent diffusion system for local and long-distance public transport. The first trials have revealed astonishing effects – and unexpected side-effects. Accompanying studies showed that the users of buses felt not only more at ease but also safer as a result of the pleasant scent. "What's special about our devices is how they work," Roderer explains. "We atomise the scents in their cold state." By using this process known as micro-nebulisation, the scent can be dispersed in the room without the addition of alcohol or other carrier substances. Also important is the devices' high dosage quality to ensure that the air smells pleasant and not overpowering. Proverbial Swiss precision is obviously not confined to toolmaking.
25 years of precision with Mitsubishi Electric
Amiet has been working with Mitsubishi Electric EDM equipment since 1988, although the original machines have long vanished from Herisau. Today, the company wire-cuts on two Mitsubishi Electric FX20-K Platins, a Mitsubishi Electric FA20 and a Mitsubishi Electric MV1200R. "The new machines operate incredibly dependably," Roderer asserts. "In the last 15 years that we've been working with Mitsubishi Electric EDM equipment, a service technician from Mitsubishi Electric has only ever come to our company once. And that was when we overhauled our FX20-K machines and treated them to an upgrade. Otherwise we maintain and care for our wire cutting machines ourselves."
For such long periods of service, they still need the right support, because even Mitsubishi Electric machines need a revamp from time to time. This is when the Mitsubishi Electric parts ser­vice and hotline come into play – an important point for Roderer, because he has always been able to rely on the hotline advisers. Amiet's staff use the ser­vice regularly, and not only when machine operation or malfunctions and repairs are concerned. When performing tricky tasks they can also be sure of obtaining competent advice from a Mitsubishi Electric applications engineer at the drop of a hat. "Practical skills are very important for us," says Roderer. "For out-of-the-ordinary jobs, when we have to wire-cut really awkward parts, we rely on the experience of the Mitsubishi Electric experts. This is how we quickly achieve optimum results without any wastage. We've fared well with this strategy so far."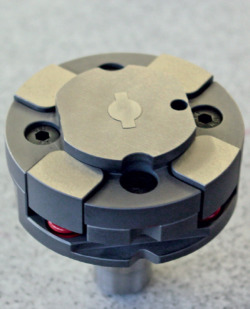 "For out­-of-the-ordinary jobs, when we have to wire-cut ­really awkward parts, we rely on the ­experience of the ­Mitsubishi Electric ­experts."
Turn for the better with an extra axis
Turning with EDM is not basically new. By purchasing the MV1200 with an additional rotary axis in November 2013, the company is able to wire-cut rotationally symmetrical parts. The decisive advantage for Roderer is that no cutting forces are applied to the components. Very thin-walled and complex, rotationally symmetrical parts can thus be machined with a surface quality Ra of less than 0.2 µm. Even tiny pins with an extreme length/diameter ratio of, say, 20 to 0.2 mm can be produced free-standing without steadying. "For our firm," Roderer adds, "advanced EDM is the key technology enabling us to tap new fields of application. We are therefore considering replacing one of our machines with a larger MV from Mitsubishi Electric – but before that we shall have to invest in a new machining centre."