Wire-cutting a higher profile.
Prototyp in Zell am Harmersbach in Baden produces threading, forming and milling tools for its parent company, the tool manufacturer Walter AG in Tübingen. The grinding wheels required for this are profiled by the specialists on wire erosion systems from Mitsubishi Electric.
Prototyp Werke in Zell, a company of tool manufacturer Walter AG since 2007, develops and produces standard and custom carbide tools for drilling, forming and milling threads. In production, the tool grinders have to meet challenging specifications for high precision. Different profiles have to be ground with high precision into round-ground carbide rods for a variety of tools. It is very difficult to achieve the accuracies required today by adopting the methods previously used for preparing the grinding wheels. According to Fabian Lehmann, the tool grinders at Prototyp therefore replaced the former "crushing" of the grinding wheels with wire eroding in 2019. "During crushing, profiled form rollers are pressed against the grinding wheels. The abrasive grains break out of the grinding wheel and the desired profile is created. This process is highly elaborate when high precision is required. The profiles are extremely difficult to produce and, due to the manual aspect, almost unrepeatable. In addition, the process is very labour-intensive, requiring long set-up and preparation," Lehmann explains.
Reliable and accurate
In order to profile the grinding wheels with much greater process security and, above all, repeatability, the tool grinders have been using an EDM-Dress 2400R wire eroding machine from Mitsubishi Electric since 2019. Initially, says Lehmann, only diamond grinding wheels with complex profiles were processed on this machine to replace manual crushing.
His excellent experience led him to invest in an automatically loaded wire-cut EDM machine for profiling other grinding wheels. He had several sound reasons for doing so. "We no longer wanted to invest in a technology with many years of proven use, but which is no longer up to the mark – such as dressing with rollers. We already had the best experience with wire eroding as a forward-looking, innovative technology. Moreover, with wire EDM we can programme the profiles with precision, and the outcome does not depend on the skill of our technicians," Lehmann continues. A lively exchange of information and further discussions with the specialists at the Kompetenzzentrum für spanende Fertigung (Centre of Excellence for Machining) in Tuttlingen under Professor Dr.-Ing. Bahman Azarhoushang confirmed our decision to purchase another wire-cut EDM machine. Beyond the advantages of higher accuracy, the wire-profiled grinding wheels show significantly higher productivity and economic efficiency. "In addition, the grinding wheels profiled with wire erosion permit higher feed rates in certain applications," Lehmann adds. Abrasive grains are not broken out during wire erosion, but cut apart, thus creating a much more efficient microstructure. The grinding wheels prove to be stronger and more aggressive. The grinding wheels profiled by wire erosion can therefore reliably grind high-precision profiles for a longer period of time.
We already had the best experience with wire eroding as a forwardlooking, innovative technology.
Fabian Lehmann, Technical Expert Threading and Milling Tools
Designed for mass production
The tool grinders in Zell produce, firstly, standard tools in medium series and, secondly, custom tools in small batches flexibly and at short notice. For this, they need a large number of different grinding wheels and grinding wheel sets. For the latter, up to four individual grinding wheels are set-up in advance on a shaft with a standard tool holder – an HSK50, for example. In this way, the grinding wheel sets for machining the tools can be changed in the tool grinding machines quickly and with high repeat accuracy. "So that we can profile our numerous different grinding wheels with wire EDM, we not only invested in a second wire EDM machine MV1200R from Mitsubishi Electric in 2021, but also installed a highly automated, flexible DiamondCell 1200R robotic cell," says Lehmann. Sets of grinding wheels are now profiled in a fully automated process in rapid succession. The skilled personnel place the grinding wheels in a kind of tray in the DiamondCell. From there, a robot transfers the various programmed grinding wheel sets to a shelf, from where they are successively fed into the rotating spindle in the workspace of the MV1200R Connect wire erosion system and processed. After wire eroding, the robot dips the grinding wheel sets in an oil bath to protect them from corrosion and then places them on the rack from where they can be removed.
Flexible programming
The robotic cell is equipped with a master computer. Here the grinding wheels for profiling are entered as jobs. The storage positions of the grinding wheel sets for eroding are also programmed. The sequence and thus priorities can also be adjusted to account for already entered data. This ensures maximum flexibility with complete automation of the profiling process. Lehmann explains working with the flexible robotic cell: "To wire-cut the profiles, we read in DXF files on the master computer. From this, we create the NC programs from the control system, in dialogue and with user guidance. The wire EDM machine is integrated into the robotic cell's master computer and receives production orders from there. We can create further NC programs for profiling grinding wheels in parallel. We benefit enormously from the fact that the robotic cell can profile more than 20 different grinding wheel sets in chaotic succession, unattended. This way we achieve high productivity und exceptional cost-effectiveness with our work."
Dependable and rugged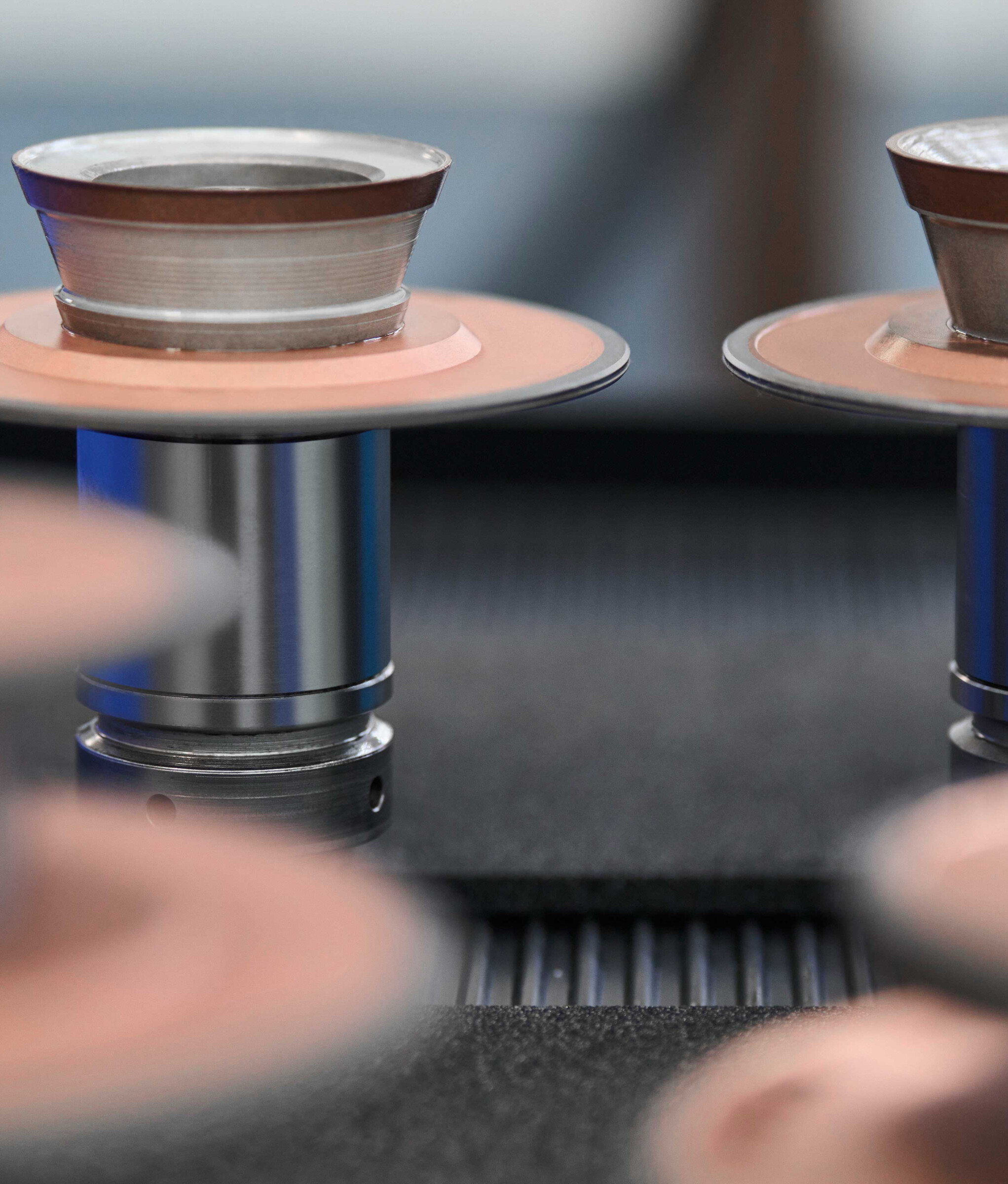 "The DiamondCell 1200R does its profiling work absolutely reliably and autonomously over a long period of time. We mainly use wire with a diameter of 0.2 mm. Even in the event of a pretty unlikely wire breakage, the machine reliably rethreads and resumes machining," says Lehmann, highlighting the strengths of the wire EDM machine from Mitsubishi Electric.
Because the process of wire-eroding the grinding wheels thus runs so dependably, the tool grinders in Zell soon intend to profile grinding wheels in three shifts as well for the mass production of their threading tools. The grinding wheel sets are dipped after wire-cutting in an oil bath to prevent corrosion of the grinding wheel carriers and tool holders. Lehmann expects the volume of production orders for the automated robotic cell to grow in the near future. Unfortunately, not all the grinding wheels in use can be eroded trouble-free – these must be replaced with suitable wheels so that whole wheel packs can be transferred from manual dressing to wire EDM dressing.
Tools from Baden – Prototyp Werke GmbH
The foundation stone for the company was laid by Alfred Zimmermann, an engineer in Zell, in 1919. He started out with the production of micrometers. From 1920, he added the production of dies, primarily for sewing machine threads for sewing machine manufacturer Dürrkopp in Bielefeld. In the ensuing years, the firm gradually started cutting all other common types of thread as well. The company has been called "Prototyp" since 1927.
The DiamondCell 1200R does its profiling work absolutely reliably and autonomously over a long period of time. We mainly use wire with a diameter of 0.2 mm. Even in the event of a pretty unlikely wire breakage, the machine reliably rethreads and resumes machining.
Fabian Lehmann, Technical Expert Threading and Milling Tools
Today, the specialists in Zell am Harmersbach develop and produce high-tech milling and threading tools of HSS and solid carbide. The production activities include not only the grinding of the various geometries, but also the surface treatment and coating of tools. It produces about 1.8 million threading tools and 1.1 million milling tools annually.
The investment in the DiamondCell 1200R robotic cell with integrated MV1200R wire-cut EDM machine from Mitsubishi Electric has now proved to be absolutely right and worthwhile for us in several ways.
Fabian Lehmann, Technical Expert Threading and Milling Tools
The Prototyp plants in Zell have been a state-of-the-art production site belonging to Walter AG since 2007. As a globally operating toolmaker, the Walter Group is active in all of the world's major markets. This means that the company can supply standard and special tools directly to the customer worldwide and, together with production specialists, implement the in each case optimum machining process.