Where high-tech mould making comes naturally.
The Vosges Mountains – France's geological twin of Germany's Black Forest – are popular with tourists, but sparsely populated due to the harsh weather conditions. The area's most important asset is its skilled and industrious people. This is what an enterprising group of friends built on in 1989 when they started making die-casting and injection moulds here. With ingenuity and quality, the company soon established itself.
"We owe our success to our quality, know-how and excellent service," says Philippe Pierrel, managing director and co-owner of Spimeca SAS in La Bresse. Founded in 1989, the company specialises in the making, maintenance, modification and repair of metal moulds for the production of plastic injection mouldings and zinc die castings. The moulds they make weigh up to 2.5 tonnes.
Its customers are suppliers to various industrial sectors such as vehicle manufacture, packaging, building accessories, medical technology, and household and electrical appliances. In addition to numerous clients in eastern France, the customers also include companies in Germany, Belgium, Switzerland, Romania and Algeria. Many of the customers have been loyal to the company for over 20 years and regularly place new orders. In 2018, several senior employees took over the company in a management buyout.
Focus on challenging moulds
"Our customers know that we also take on orders for particularly fiddly moulds – especially two-material ones," Pierrel adds. These include highly nested moulds, moulds for multi-component injection moulding and moulds for thermosets and elastomers. That's also why a full third of the workforce is engaged in design engineering and job preparation. This is where modern hardware and CAD/CAM software packages are used.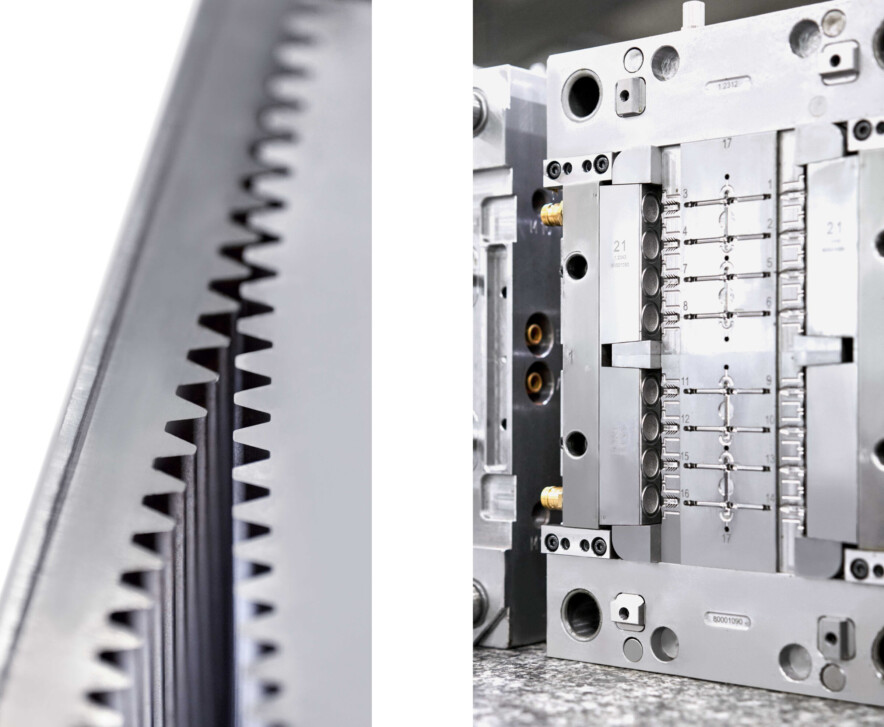 A largely closed digital transfer of machining data to advanced, CNC-controlled machine tools ensures fast and efficient production of the required components with the desired precision. In addition, the company teams up with customers to advise them on particularly demanding tasks as part of development projects. For supplementary engineering services such as the simulation of the injection moulding process, the company resorts to its network of proven external specialists.
Modern equipment
"If you want to deliver high quality and precision, you have to invest in high-grade machinery," says Pierrel. Currently, this includes four advanced CNC machining centres and a further four spark erosion systems, also CNC-controlled. The machining centres are a turning machine, three 3-axis milling machining centres and a 5-axis milling machining centre. These are supplemented by a cylindrical grinding machine and three surface grinding machines. In the EDM sector, Spimeca has two die-sinking EDM machines, two wire EDM machines and a start-hole drilling machine. One of the die-sinking EDM machines is automated with an EROWA robot system.
High level of service
"An important advantage of our company philosophy from the customer's point of view is our high level of service," Pierrel explains. If necessary, they can react within two days. The fact that Spimeca also handles third-party products is highly appreciated. The service covers all aspects of maintenance and modification to repair after damage due to wear-and-tear or impact. Speed is of the essence in such cases, because the customer usually has to complete his orders to tight deadlines. In the event that material has to be rebuilt on components, e.g. after wear, the company has also invested in a special system for laser build-up welding. Such jobs now account for about 50% of total revenue. This service not only strengthens the loyalty of existing customers, but also attracts new ones.
Choosing Mitsubishi Electric
"The decision to purchase a new wire EDM machine was taken in January 2021," Pierrel reveals. It was to replace an older machine from another manufacturer that no longer met the tougher demands in terms of performance and precision. At that time, Spimeca already had long-standing contacts with Delta Machines, Mitsubishi Electric's French agent, so they also sought information there during their search. The discussions revealed that a MV1200R Connect water bath machine met Spimeca's requirements best. Instead of arranging trial machining, Delta organised a whole series of visits to users who were already using the equipment.
The discussions with fellow users proved very helpful and ultimately led to the decision in favour of the Mitsubishi Electric MV1200R Connect. The order was placed in May 2021 and delivery took place in September. After delivery, Delta first provided three days of internal training, which was attended by three employees. Two further days of training then followed in November. This two-stage approach was deliberate to enable the second training session to build on the practical experience already gained. Since then, Delta has also proved to be competent and quick to respond to questions from staff.
Satisfied with quality and service
"The new wire-cut EDM machine has been in continuous use since then and proven to be efficient, reliable and highly precise," Pierrel reports. Spimeca can now use wire diameters of only 0.1–0.3 mm instead of the 0.2–0.3 mm previously used on the old machine. In combination with the significantly better surface quality, this opens up additional market opportunities in the machining of cutting and punching tools, for example. Machining in discontinuous cuts benefits particularly from this.
Since commissioning, there have been no machine failures whatsoever. The unit works reliably, staff have no problems with it and the quality achieved is satisfactory. "At the end of the day, I can say that all our expectations have been met," says Pierrel summing up.
The new wire-cut EDM machine has been in continuous use since then and proven to be efficient, reliable and highly precise.
Philippe Pierrel, managing director and co-owner of Spimeca SAS
Spimeca SAS
Name and place of company:
Société De Production ­Industrielle Et Mécanique – Spimeca SAS
France
Founding year:
1989, management buyout 2018
Owners:
Philippe Pierrel, Laurent Poirot, ­Ludovic and Aurélie Claudel
Employees:
18
Skills and core competences:
Making, modification, maintenance and repair of injection moulds
Contact
Société De Production ­Industrielle Et Mécanique – Spimeca SAS
7 Bis Chemin des Écorces
F-88250 La Bresse
France
Tel. +33 (0)3 29 25 56 57
contact@spimeca.com
www.spimeca.com